The Corkline
National Seafood Month
Hey, guess what? October is National Seafood Month! Can I get a woot-woot? What is National Seafood Month you ask? Is a whole month of celebrating all things seafood! It's a little more loosey-goosey with its definition than say National Breast Cancer Awareness Month or Black History Month. Those titles pretty much sum up the meaning within themselves. But National Seafood Month? I think that pretty much means we get to define and celebrate it any way we chose. What do you think? So I'm going to take advantage of NSM and share with you all things seafood that I love. But life isn't just all about me (or so I'm told). I want to also hear about all things seafood that you love! So feel free to leave a comment or, better yet, send me your ideas at pickfish@gmail.com and I'll add them to different posts throughout this month. This is going to be great! But, since I'm already here, I'll start us off with a poem my friend and setnetter Meezie Hermansen wrote.
Kitchen Scales
Meezie Hermansen
Chinook, coho, sockeye, and pink
Eat your salmon however you think
Try salmon pate, dip, or spread
Or salmon salad on slices of bread
Smoked, baked, poached, or broiled
Kippered or pickled or even boiled
Burgers, bisque, chowder and cakes
Caviar, crepes, fillets, and steaks
Salt fish, jerky, or fish head soup
Pan fried, grilled, souffle or mousse
Whether fancy or plain, however it's styled
Make sure all the salmon you eat is wild
I also want to share one of my favorite seafood recipes because what better way to celebrate seafood than to share it with your friends? Its super duper easy to make, delicious and the salmon makes it nutritious! What's not to love?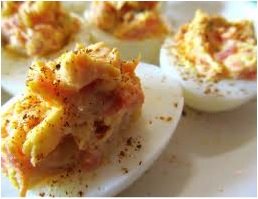 Smoked Copper River Sockeye Salmon Deviled Eggs
INGREDIENTS
1 dozen eggs
2 teaspoons dijon mustard
1/3 cup mayonnaise
1-2 teaspoons of Wasabi (depending on how spicy you like it)
2 teaspoons of Smoked Copper River Sockeye Salmon (plus a little salmon oil)
Salt and pepper
Paprika (for garnish)
METHOD
1 First hard boil the eggs. I'm guessing we all know how to do that, but just for the sake of being thorough, I'll tell you how I do it. Fill up a large saucepan half way with water and gently add the eggs. Cover the eggs with at least an inch or so of water. Add a pinch of salt to the water. Bring the water to a boil. Once the water boils, turn off stove but do not remove from heat. Let sit covered for 13 minutes (at sea level. If you live in the mountain you will have to figure out yourself how much longer your eggs need to sit. Sorry!) After 13 minutes have passed, drain hot water from pan and run cold water over the eggs. Let sit in the cool water a few minutes, changing the water if necessary to keep it cool.
2 Peel the eggs. Using a sharp knife, slice each egg in half, lengthwise. This is important. I forgot to mention lengthwise once when I was making deviled eggs with a friend who evidently grew up under a rock. I just assumed everyone already knew that you slice eggs lengthwise. I was wrong. You know what they say when you "ass-u-me" things. Anyway, gently remove the yolk halves and place in a small mixing bowl. Arrange the egg white halves on a cutting board, preferably one with a little tractions so the eggs don't slide all over the place and drive you crazy.
3 Using a fork, mash up the yolks and add mustard, mayonnaise, wasabi, Smoked Copper River Sockeye Salmon (plus a little salmon oil if you have it. Its not essential, just adds extra flavor plus the oil is super good for you. I try to sneak it into every possible salmon scenario.) Add salt and pepper. Spoon egg yolk mixture into the egg white halves. Sprinkle with paprika. IF you are feeling generous, you can also garnish with tiny pieces of smoked salmon.
Stand back and watch these get devoured!
Happy National Seafood Month!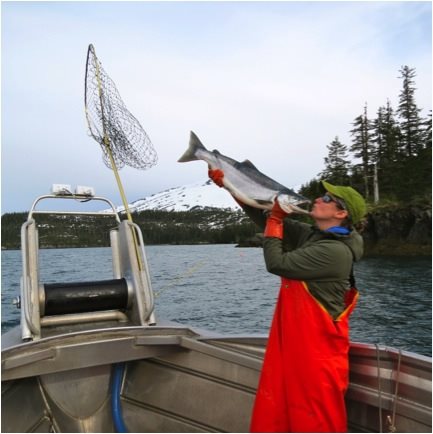 YOURS TRULY WITH A PWS SOCKEYE (2012)
JEN PICKETT is a freelance writer, a fisher poet, and a commercial fisherman. She has spent over two decades in Alaska's commercial fishing industry. She's worked on tenders, seiners, trollers, gill netters and long liners fishing Alaska's waters for herring, salmon, and halibut from Southeast Alaska to Bristol Bay. She even had a 5 year stint as a "girl-netter" fishing her own boat on the Copper River Delta and Prince William Sound out of Cordova, Alaksa. You can also read her recent work at pickfishtales.blogspot.com.
---
‹ Back