Pan Roasted Copper River King Salmon with Spinach and Ginger Chutney Drizzle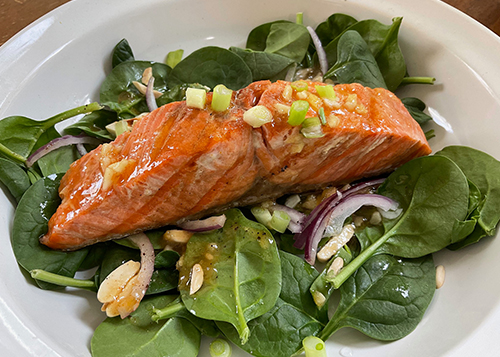 Pan Roasted Copper River King Salmon with Spinach and Ginger Chutney Drizzle
Our inspiration for this retro recipe hails from a vintage collection of 1983 Gourmet Magazines, which was exactly when the fresh Copper River king salmon was leaping forth into the American restaurant scene. Spinach, chutney, and almonds appeared in the recipes frequently that year and spinach seemed to be a stalwart staple. With that as our inspiration, we created this updated and simple salmon entrée. In our rendition, fresh and convenient prewashed baby spinach acts as a verdant bed for our treasured Copper River Kings! To cook the salmon we use a pan roasted method which starts the salmon fillets on the stovetop in a heatproof pan such as a cast iron skillet. We then finish the cooking in a preheated oven where the salmon will cook gently in the radiant heat of the oven.
Recipe by Melissa A. Trainer
Serves 2.
Ingredients
2 6-ounce portions Copper River King Salmon fillets
1 garlic clove, peeled, minced, and mashed to a paste with a dash of salt
1 teaspoon grated fresh ginger
3 Tablespoons Major Greys Chutney
½ teaspoon Dijon mustard
2 Tablespoons rice vinegar
5 to 6 Tablespoons vegetable oil, plus 1 teaspoon for brushing the fillets
4 cups prewashed baby spinach
¼ small red onion, sliced very thin
2 to 3 Tablespoons slivered almonds, toasted
¼ cup orange juice
Finely sliced scallions for garnish, if desired.
Instructions
Preheat the oven to 350° F. In a small saucepan combine the garlic paste, ginger, chutney, Dijon mustard, rice vinegar, and the oil. Combine the ingredients and heat the mixture gently over moderately low heat, stirring to loosen the chutney and warm the vinaigrette. Keep the sauce warm while preparing the salad and cooking the salmon.
Divide the spinach between two plates, sprinkle with the red onion, and the almonds.
Season the salmon fillets with salt and brush them with an additional teaspoon of vegetable oil.
Sear the salmon, flesh side down first, in a preheated oven proof skillet such as a cast iron pan. Sear it for about a minute, flip it and leave it for another minute or so. Then transfer the salmon in the pan to the preheated oven and cook until the fish just starts to flake and is just starting to turn opaque. Transfer the fish to a plate and keep warm where it will continue to cook gently off the heat.
Pour a couple teaspoons of ginger chutney drizzle over the spinach on each plate.
Put the salmon fillets on the spinach.
Add the orange juice to the remaining warm ginger chutney drizzle and pour the sauce over the fillets.
Garnish with scallions if desired.