Ray's Boathouse + Copper River King Salmon:
A Perfect Summer Pair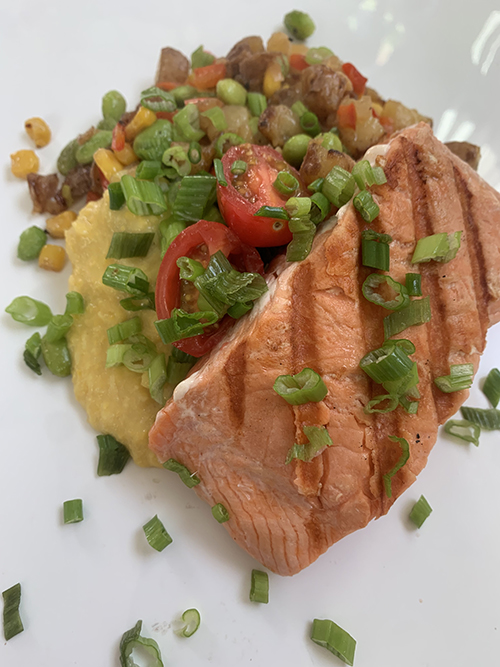 Grilled Copper River King Salmon with Sweet Corn Puree and Succotash
Serves 4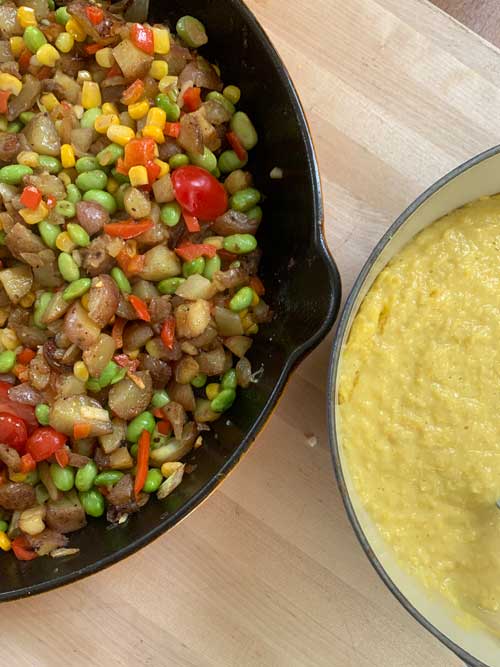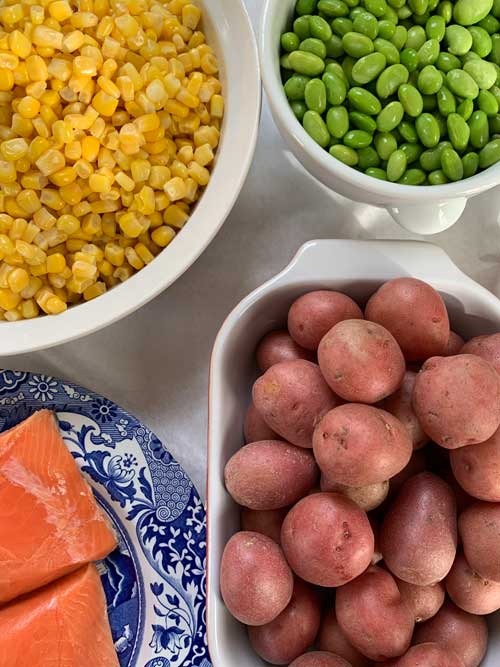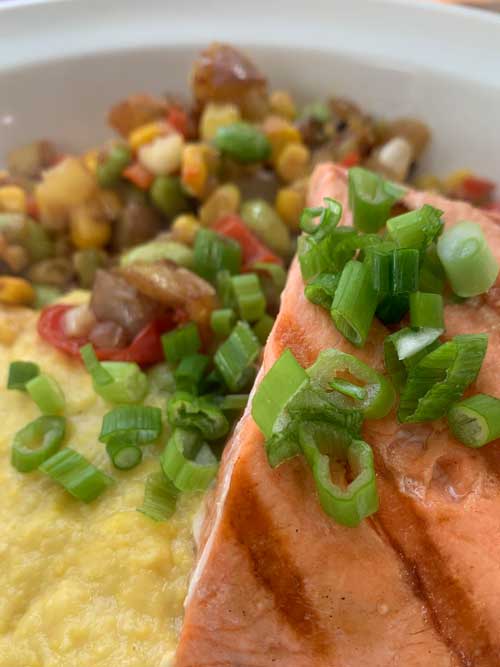 The acclaimed Ray's Boathouse, located in Seattle, has been serving Copper River Salmon, fresh when in season, since that first delivery arrived on their doorstep in 1983.

The current Executive Chef, Kevin Murray, will be highlighting Copper River salmon this June to commemorate the restaurant's 50th Anniversary and Chef Kevin graciously created this recipe to celebrate our anniversary.

Inspired by one of the restaurant's classic dishes, Pan Roasted Copper River Sockeye Salmon with Creamed Sweet Corn Sauce and A Spring Ragout of Morels, Ramps, and Fiddlehead Ferns, this updated anniversary version highlights a creamy and easy to make sweet corn puree and is served with a robust and colorful succotash of potatoes, peppers, edamame and more.

Chef Kevin explained, "When I am trying to come up with something new, it's important to me to maintain who we are and what we do. I'm not looking to reinvent the wheel. I want to stay true to who we are, maintaining high quality ingredients and pairing them simply with classic flavors. I try to reimagine them, but I feel like there's a reason why things are classic and why things are delicious. I like the past and there's lots of importance in looking back.

Indeed, as we all celebrate and look back over the decades, we completely agree and are pleased to share:
Ingredients
Four 6 oz skin on Copper River King Salmon fillets
6 ears of fresh sweet yellow corn or 4.5 cups frozen corn kernels
1 yellow onion, half sliced, half diced
4 small red potatoes (about 2# total), small diced
1 red bell pepper, diced
1.5 cups edamame without pods, could substitute lima/fava beans
1 cup halved cherry tomatoes
3 cloves garlic, minced
1 bunch scallions, thinly sliced, whites and greens separated
Vegetable Oil
Extra Virgin Olive Oil
1/3 cup dry white wine
2 tbsp salted butter
Instructions For the Succotash
Heat a large sauté pan or cast-iron skillet over medium heat, add enough vegetable oil to just cover the bottom of the pan. Add diced red potato, and cook, stirring frequently, until potatoes are tender and have begun to brown. Add diced yellow onion and continue to cook until onion has begun to soften and brown. Season corn and onions with salt.
Add diced red bell pepper and reserved corn kernels to the pan and cook, shaking the pan intermittently to prevent sticking or scorching. Cook for 2-3 minutes, then add edamame, minced garlic, and scallion whites, cook for an additional 3 minutes, or until garlic and scallions are aromatic but not burnt.
Deglaze the pan with the white wine, add halved cherry tomatoes and butter, and cook until wine is reduced. Season with salt and pepper to taste.
Instructions For the Sweet Corn Puree
Begin by cutting corn off the cob. After removing the kernels from each of the ears of corn, over a bowl, scrape along the cob using the back of a chef's knife to extract as much of the corn juice as possible. Reserve two ears worth of corn for the succotash.
In a 2-quart pot heat 1 tbsp vegetable oil and sauté sliced yellow onion until softened and beginning to brown.
Add 4 ears worth of the cut corn kernels, or 3 cups of frozen corn, pour in water to just cover corn kernels, bring to a boil, and simmer for 20 minutes.
Working in batches if necessary, transfer corn and onion mixture to a blender and blend on high speed until a silky puree is formed. Note: Use only as much water as needed to create a thick puree. If too thick, a little extra water can always be added.
Season to taste with salt and pepper. Keep warm until ready to serve.
Instructions For the Copper River King Salmon
Heat gas or charcoal grill over medium high heat. Lightly brush salmon fillets with EVOO and season with salt and pepper.
Grill salmon flesh side down for 4-5 minutes, or until nice grill marks have been made, flip onto the skin side and continue to cook for an additional 5 minutes, or until desired doneness. At Ray's we prefer to cook our salmon to an internal temperature of 115 F, or about medium rare.
Transfer to a plate or tray to rest.
Serve Grilled King Salmon with a generous portion of succotash and corn puree, using the reserved scallion greens to garnish.