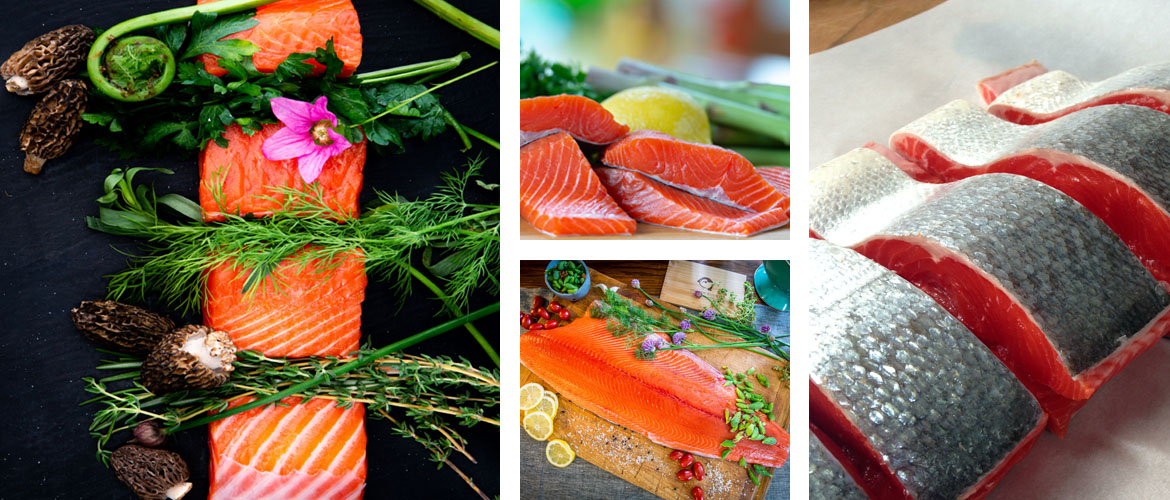 Celebrate Forty Years of Fresh with Forty Tips!
Inspired by our community of fishermen, families, and cooks we have crafted these fun and quirky tips, tricks and techniques for handling our treasured Copper River salmon. Whether it's a king, sockeye or coho, these tips apply and were crafted to help professional and home cooks alike as they prepare delicious meals with this wild and sustainable salmon.
By Melissa A. Trainer
1

Get Salty! Before cooking the salmon, sprinkle the flesh lightly with sea salt before adding any marinade or before brushing it with oil. The salt sprinkled directly on the flesh goes a long way towards blooming the flavor.

2

Leftovers! Waste Not Want Not. Take any bits of leftover baked or grilled salmon and toss it into an impromptu spread, combining it together with butter, cream, Greek yogurt or even cream cheese and goat cheese. Add flavors as desired and put on a bagel, cracker, or even celery sticks.

3

Crispy Skin - When you cook a piece of salmon and get luscious crispy skin, use it and enjoy it. Serve it as a garnish or with a sharp knife slice it into strips and arrange over the cooked fillet.

4

Rock and Roll that Lemon - Salmon and lemon are a classic pair. When using a fresh lemon, poke it a few times with a paring knife or fork. Put it in the microwave and heat for 15-30 seconds. Roll it on the counter pressing gently with your palm, slice it in half and juice it while it's slightly warm. The warming and rolling help to release more of the lemon juice!

5

Garlic Tip! Many salmon recipes call for chopped fresh garlic. To remove the smell of garlic from your fingers, grab a stainless-steel spoon and turn on the water. Rub your fingers over the spoon under the running water and odors of the Stinking Rose simply slip off your fingers!

6

A Pinch of This and That! Have a recipe that calls for a pinch of salt, cardamom, allspice, or nutmeg? Well take note. A pinch is defined as 1/8 teaspoon… give or take, of course, according to taste!

7

How to Pinch? Grab the spice or salt between forefinger and thumb and with practice you'll learn to pinch perfectly! Just don't pinch an inch!

8

The Skinny on Skin - How and whether to use the salmon skin is a personal preference and there are lots of opinions. Some folks always score the skin before putting it in the pan to prevent curling. Others rely on the skin, unscored, to act as a vessel for catching all the juiciness as the fillet cooks. Others may remove it all together before cooking or serving.

9

Make No Bones About it. Get Fish Tweezers! It's important to remove the pin bones from the fillets if the fishmonger didn't do it for you. The best tool for the task? Fish tweezers. To use tweezers, run your finger up the fillet from collar to tail and feel for any bones, then holding your tweezers, pull the bone out at a 45-degree angle. The angle helps to avoid disrupting the flesh too make and keeps the fillet looking good.

10

A Crumby Topping! Have breadcrumbs around? Well melt some butter or heat some oil gently in a pan, toss in the breadcrumbs, add fresh or dried herbs, and sprinkle the savory crumbs over a fillet before baking in the oven. Boom! A boost of flavor with simple economical ingredients and little effort.

11

Sharpen Up! Keep those knives sharp. The salmon will slice cleaner, and the cuts will be more precise. Plus, sharp knives are safer than dull ones because they are less likely to slip under pressure when cutting!

12

Craft a Tomato Concasse - Salmon and tomatoes make a delicious summer pairing. A quick simple approach is to chop some fresh sun ripened tomatoes, add a pinch of salt and a drizzle of oil. Chop fresh basil and garlic, add to tomatoes, and serve atop grilled fillets.

13

Test for Doneness - Cook the salmon just until it starts to flake and just turns opaque. Remember that salmon continues to cook off the heat. So don't overcook it!

14

Who Doesn't Love Bacon? If you love bacon, you'll love crispy omega-3 rich salmon skin. If you plan to crisp up your delicious salmon skin have your fish monger remove the scales or do it yourself at home using the sharp edge of a chef's knife and firmly but carefully drag it across the skin side of your fillet. Fish scales will fly!

15

Get Zesty - The zest of lemons and lime contains lots of aromatic compounds so get a micro plane zester which will easily remove the flavorful zest and leave the bitter pith behind. These zesters turn the colorful outer rind into a lovely light ingredient to add to a salad dressing, marinade, or sauce.

16

Dillicious! Feathery lightly aromatic fresh dill is a friendly classic flavor when it comes to salmon and if you buy some and find you have extra, simply chop the excess, blend with softened butter, roll into a log, wrap in parchment, and freeze for use later. To use, slice off disks and put the herbed butter on salmon fresh off the grill.

17

Keep the Skin On - When cooking salmon, keep the skin intact during cooking as it acts as a natural heat barrier during cooking.

18

Flip with this! Get a slotted fish spatula which has a wider edge and makes it easier to pick up a fillet and flip it with ease.

19

Grind On! Fresh cracked pepper goes a long way when seasoning your dish so invest in some whole peppercorns and a high quality peppermill.

20

Craft a Tartine - A tartine is a French open-faced sandwich and leftover salmon can be tossed with fresh herbs or diced onions, a little lemon juice and dolloped on sliced toasted bread for a lovely lunch or snack.

21

Smorrebrod Special - More inclined to Scandinavian flavors? Well then rustle up a smorrebrod, which is an open faced sandwich, with those leftovers, using dill, sour cream, capers, and hearty pumpernickel.

22

Garnish with Celery Curls - Slice celery in razor thin strips, drop in cold water and let sit for a few hours. Celery sticks will get curly and curvaceous.

23

Steam It! Steamed salmon is simple and luscious because the moist heat cooking helps to cook the fish gently. We like steaming in a bamboo steamer set over water in a traditional wok. Serve with an Asian inspired dipping sauce!

24

How Much Per Person? The average serving size per person is about 6 ounces.

25

Craft a Carbonara - Leftover salmon can be flaked and added to a simple sauce of heavy cream, garlic and herbs and tossed with hot pasta such as linguine to make a quick Italian inspired carbonara.

26

Brush Up! Best tool for brushing salmon with oil before grilled? A simple silicone brush found at a good kitchenware store. They clean easily and thoroughly.

27

Rustle Up Some Sliders! Small slider buns are easily found these days and they are great for serving salmon in smaller portions. The salmon can be cooked super-fast in one- or two-ounce portions, and they fit perfectly on the mini rolls. Kids love these!

28

Coat with Sesame Seeds - Want an Asian flavor without a lot of work? Mix black and white sesame seeds on a plate and dip the salmon in the seeds before searing it in a pan. The seeds bring a contrast of color and a great nutty flavor to the rich fish.

29

An Elegant Entrée. Want something elegant, easy, and extra special? Consider wrapping individual fillets in storebought puff pastry pieces and baking in a hot oven until the pastry is puffed and crispy.

30

Cool Off with Cucumber Sauce - Diced cucumbers tossed with sour cream or Greek yogurt, make a simple sauce that works great with grilled salmon on a hot summer night. Add herbs, garlic, or some extra virgin olive oil as desired. Season with salt and pepper to taste.

31

Relish the Capers - Briny capers are a classic accompaniment to salmon. Tossed with melted butter and seasonings or herbs, they add zing to the salmon's richness.

32

Be Bold with Herbs - The traditional herbs of summer, parsley, chives, dill, tarragon, cilantro and such, work beautifully with fresh salmon in season and they can be chopped and combined into an endlessly deliciously medley for cooking with the salmon or adding as a final flourish.

33

Ask Questions when Purchasing! Ask for Copper River by name. Whether you order your salmon direct from our fishermen or head to the supermarket in season, be curious and ask questions. Request recipe cards. Ask for recipe suggestions and seasonal pairing ideas.

34

Which Wine? Copper River King is traditionally paired with luscious Pinot Noirs so when purchasing your salmon, ask the wine merchant for a wine suggestion as well.

35

Think Spring with the King - Copper River king is the first of the season salmon here in Alaska and it pairs best with spring favorites such as asparagus, peas, tender herbs like chives and tarragon, ramps and even garlic scapes. It can be garnished with tender pea tendrils for a splendid seasonal celebration.

36

Fall for Coho with Mushrooms, Cranberries and More - The subtle flavor of coho, which arrives in late summer and early fall pairs great with the woodsy earthy flavors of fall so think mushrooms, cranberries, root vegetables, beets and more when planning an entrée around our coho.

37

Order it by Mail - Want the convenience of home delivery? Check out our Fishermen who sell directly. Sena Sea, Drifters Fish , Slack Tide Seafoods, Copper River Seafoods, Copper River Fish Market, Wild Delta Seafoods, Webber Wild, Copper River Salmon Direct

38

Use Our Fish Finder!

39

Need More Tips on Cooking Techniques? Check out our How to Cook Salmon page where we explain how to grill, bake, poach and more. Download the handy recipe card to keep in the kitchen!

40

Celebrate and Have Fun! When choosing and cooking Copper River King, sockeye or coho, relax and celebrate the seasonal bounty that has been treasured in Cordova for over 40 years!