The Corkline
Lingonberry-Lacquered Coho with Cajun Couscous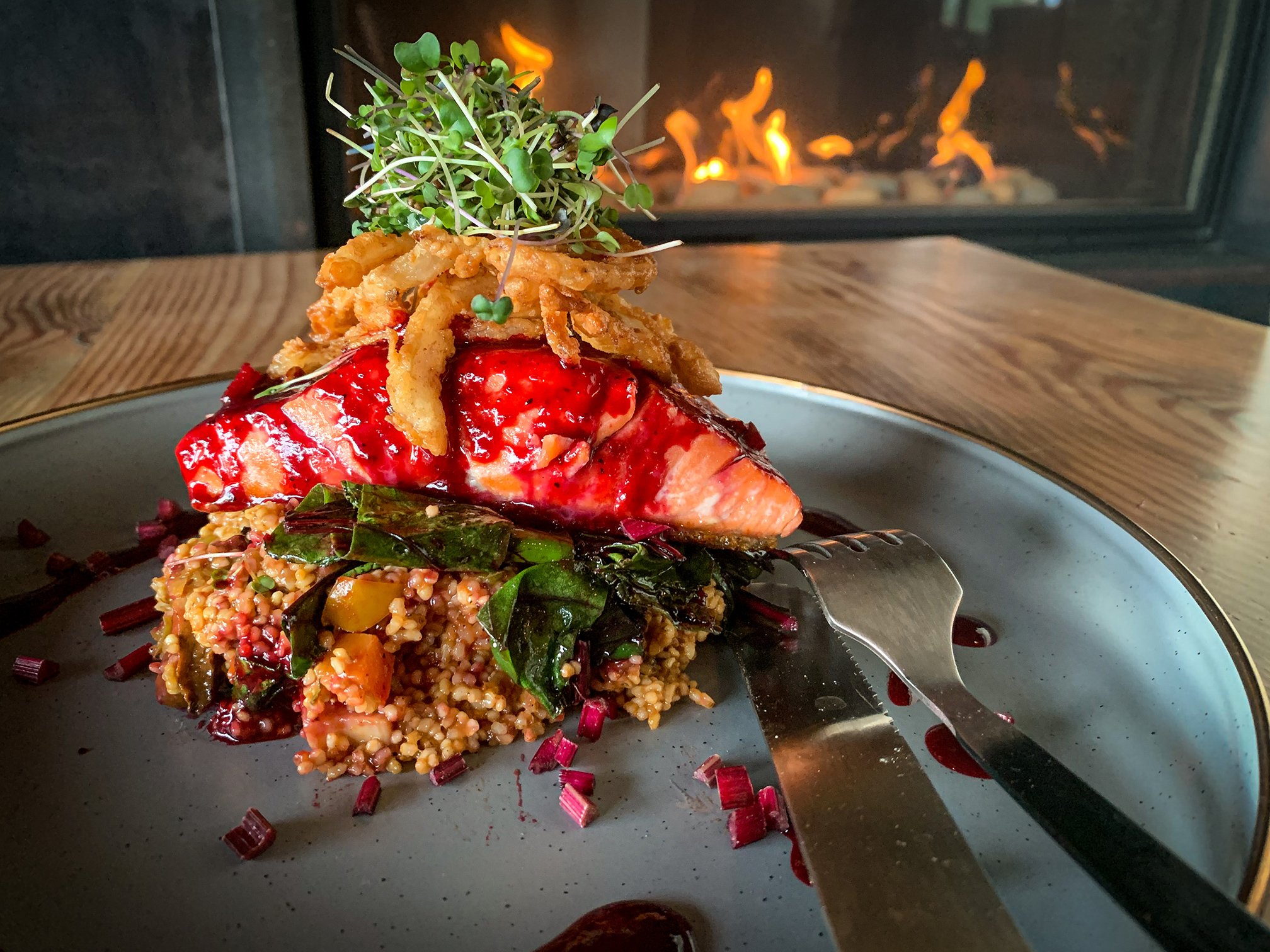 A chef friend of ours, Zoi Antonitsas, once said, "Food that grows together, goes together" and we couldn't agree more. The last great wild Alaska salmon of the season is Copper River Coho. They return to the delta in August and September right when autumn evening temperatures begin to dip and the rains hydrate the forest floor and mushrooms of all kinds flush out. All the while, lingonberries ripen from dense white berries to deep garnet colored jewels with a tart bite that leans both toward sweet and savory uses alike.
Another dear chef friend of ours, Lindsay Kucera, has a passion for wild harvesting here in south central Alaska and she developed a new favorite recipe of ours, Lingonberry-lacquered Coho salmon with Alaska barley couscous. It showcases great Alaskan ingredients and offers easy substitutions if you're unable to find lingonberries, birch syrup, wild mushrooms, or barley couscous at your favorite grocery or farmers market.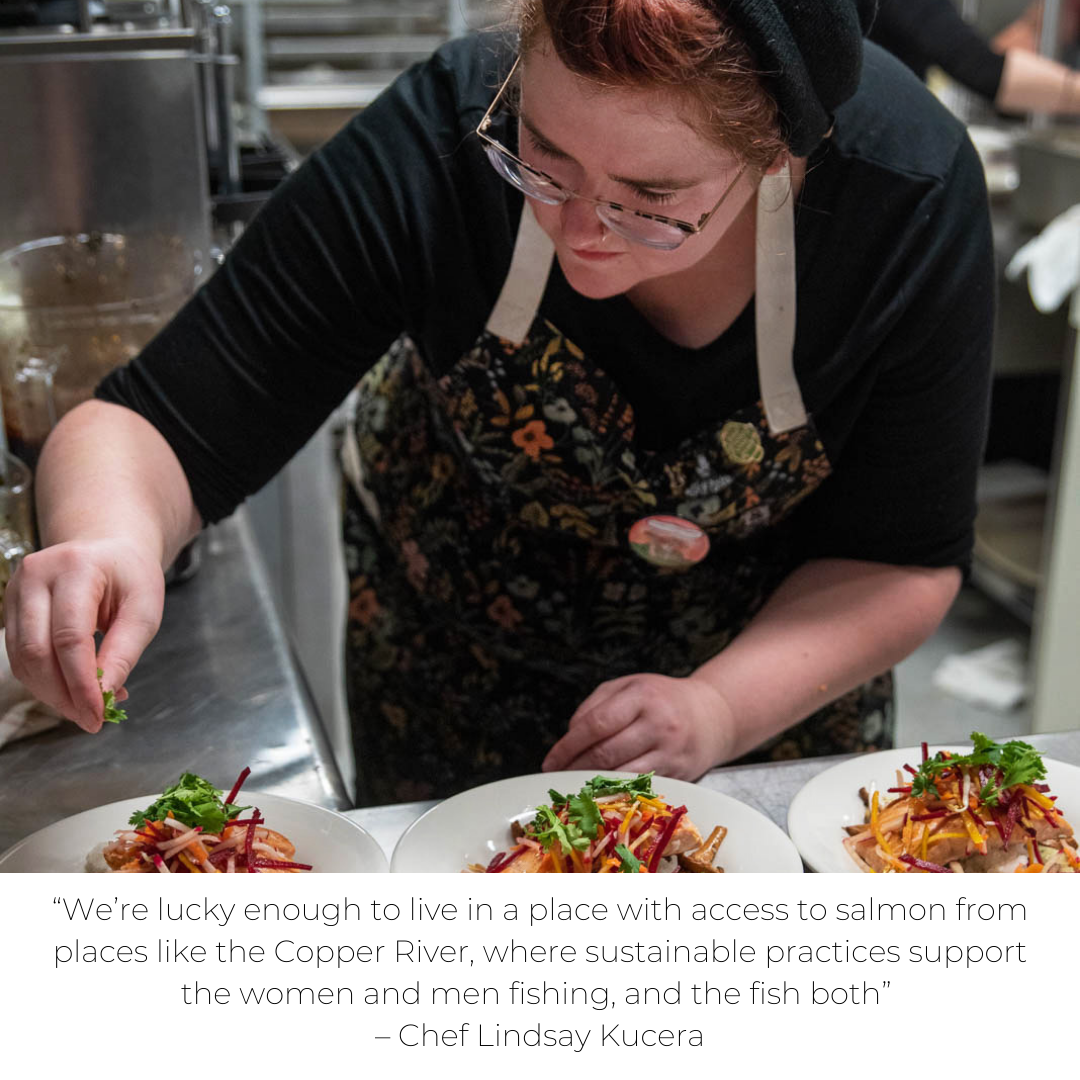 This recipe was designed to showcase some of the prominent wild foods of Alaska's autumn season, while bringing some heat to the cooler months of the year. I served this dish as a course for a special collaborative dinner event at the Rustic Goat in Anchorage. I chose to lacquer brilliant Coho Salmon fillets with a glaze of lingonberries and birch syrup, cooked down with some Cajun spice to balance the sweetness. Alaskan Barley couscous also gets a Southern dress-up to something akin to dirty rice, with hearty wild mushrooms.
Some Alaskan ingredients can be substituted if unavailable. Use what you have!
Serves 4-6
Lingonberry-Lacquered Salmon:
For the glaze:
2 cups AK Lingonberries, or cranberries
2 Tbsp Apple Cider Vinegar
½ tsp Ground Cayenne Pepper
In a blender, puree all ingredients until smooth. Pour glaze through a strainer to remove any seeds or unblended berry skins. Pour glaze into a small saucepan, and heat over medium until the sauce begins to thicken. If you prefer your glaze spicier, add more cayenne to taste. Cool and set aside. You will have extra glaze, which is the opposite of a problem. This glaze can be prepared days in advance.
For the salmon:
1 cup Lingonberry Lacquer
1 Copper River Coho Salmon filet, pin-bones removed
Preheat the oven to 450F. Prepare a baking sheet with parchment or aluminum foil. Brush the fillet all over with olive oil, and season with salt and pepper. Depending on the thickness of the filet, roast for about 5 minutes. Remove the filet and brush the top liberally with the glaze. Return the oven for 3-5 more minutes. The salmon's flesh should be opaque and flake easily with a fork.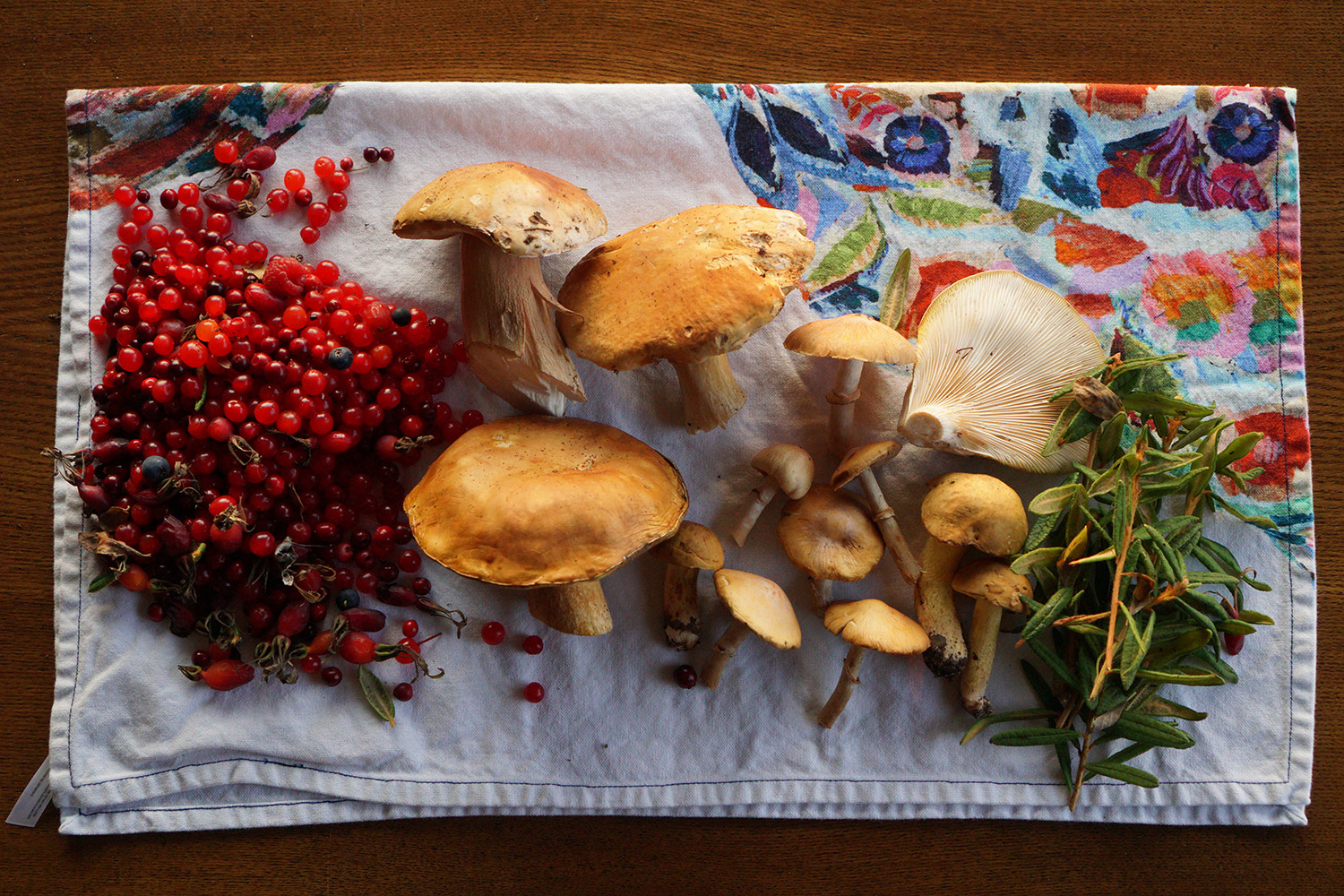 Cajun Barley Couscous:
8-10 oz Wild Mushrooms, brushed clean and cut into chunks *
1-pint Cherry Tomatoes, halved (or 1 can of crushed tomatoes)
1 Jalapeño, cored and diced
2 Bell Peppers (A mix of colors is fine), cored and diced
1 tsp Ground Cayenne Pepper
Salt and Pepper, to taste
NOTE: I used a mix of AK Oyster, Hedgehog and Chanterelle mushrooms, and one King Bolete I found at the time of development. Leave a few mushrooms whole or in larger chunks to roast for a pretty presentation. If you cannot source wild mushrooms any fresh mushrooms can substitute in.
In a large stockpot with a lid, heat the oil over medium-high heat. Add the mushrooms, and sauté until the mushrooms give up some of their moisture and begin browning. Remove from the pan, and set aside on a paper towel to drain. Add the onions, and the tomatoes, stewing them together for a few minutes so the tomatoes begin to break down. (*If using canned crushed tomatoes, don't add them quite yet.) Add in the diced celery, bell peppers, garlic and jalapeño. Sauté for 5-6 minutes. Add in the spices, the couscous, the stock, and the canned crushed tomatoes, if using. Add salt and pepper to taste. Let the stock come to a boil, then immediately turn off the heat and put the lid on the pot. Let the couscous sit for 5-7 minutes to absorb the liquid. Remove the lid, then fluff cajun couscous with the fork. Fold the browned mushrooms back into the couscous.
Crispy Fried Onions:
½ Medium white onion, sliced thinly into half-moons
½ cup Buttermilk, or Yogurt thinned with water
¼ tsp Ground Cayenne Pepper
2 cups Canola or Peanut Oil
In a medium saucepan, heat oil to 350F, or until shimmering. Mix together flour, salt and cayenne in a small bowl. Place buttermilk in a separate bowl. Toss onions in buttermilk, shake off excess liquid, then toss in flour mix. Gently shake off excess flour, then drop in the hot oil. Fry until light golden brown, and use a metal slotted spoon to remove from the oil. Place on a paper towel to drain. The onions will continue to brown slightly as they cool.
To Serve: Place salmon on a bed of the couscous, and serve with greens. I've tried this with arugula, spinach, or wild greens. Pour more of the glaze over the salmon, and top with crunchy fried onions.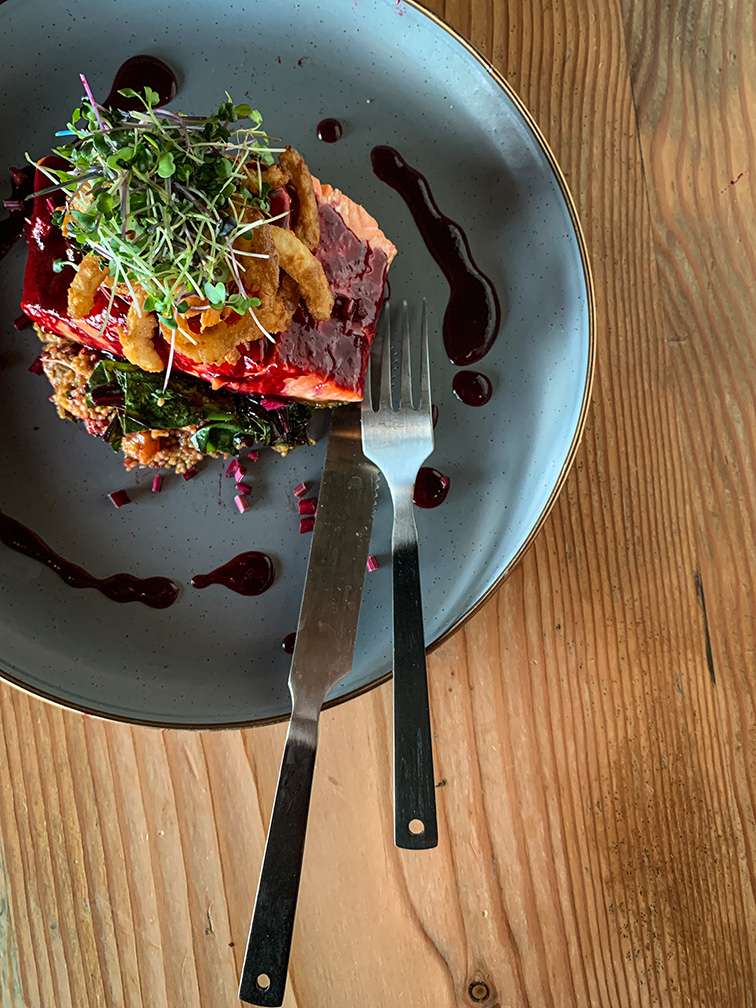 ---
‹ Back