The Corkline
Chef Dennis's Blackened Salmon and Tropical Salsa
Blackened Copper River Salmon with Tropical Salsa
Recipe by Dennis Deaver, Orca Adventure Lodge
Continuing our time with the chefs at Orca Adventure Lodge, Chef Dennis Deaver prepared a stunning Blackened Salmon & Tropical Salsa, masterfully blending sweet and savory. Check out the full recipe below, and be sure to let us know if you give it a try!
Recipe amounts below yield 8 servings, change amounts as needed. Extra blackening seasoning can be saved in refrigerator for later use.
Ingredients
8 portions Copper River Sockeye salmon
Olive oil

For Salsa

1/2 bunch cilantro, finely chopped
1 red bell pepper, finely chopped

1 green bell pepper, finely chopped

1 jalapeño, finely chopped

1 cup fresh pineapple, diced

For Blackening Seasoning

1 fresh squeezed lemon
1/4 cup mango purée
1 cup oregano
1/2 cup smoked paprika
1/2 cup ground ancho chili
1/4 cup garlic powder
1 tbsp salt
1/2 cup cayenne pepper

1/4 cup thyme
1/4 cup basil leaf, finely chopped
Instructions (read directions thoroughly before cooking)
Pat salmon dry and sprinkle with salt and pepper on both sides, preheat oven to 400° F
Mix salsa ingredients and blackening seasoning ingredients in separate bowls
Coat flesh-side of salmon with blackening seasoning

Sear flesh-side of salmon 1-2 minutes in hot pan with oil

Transfer to foil-lined sheet pan, skin-side down, cook in oven for 4-5 minutes or until fully cooked

Top blackened salmon with salsa, pair with preferred salmon pairing and enjoy!



Click the button below to download our recipe card with these instructions.
Blackened Salmon with Tropical Salsa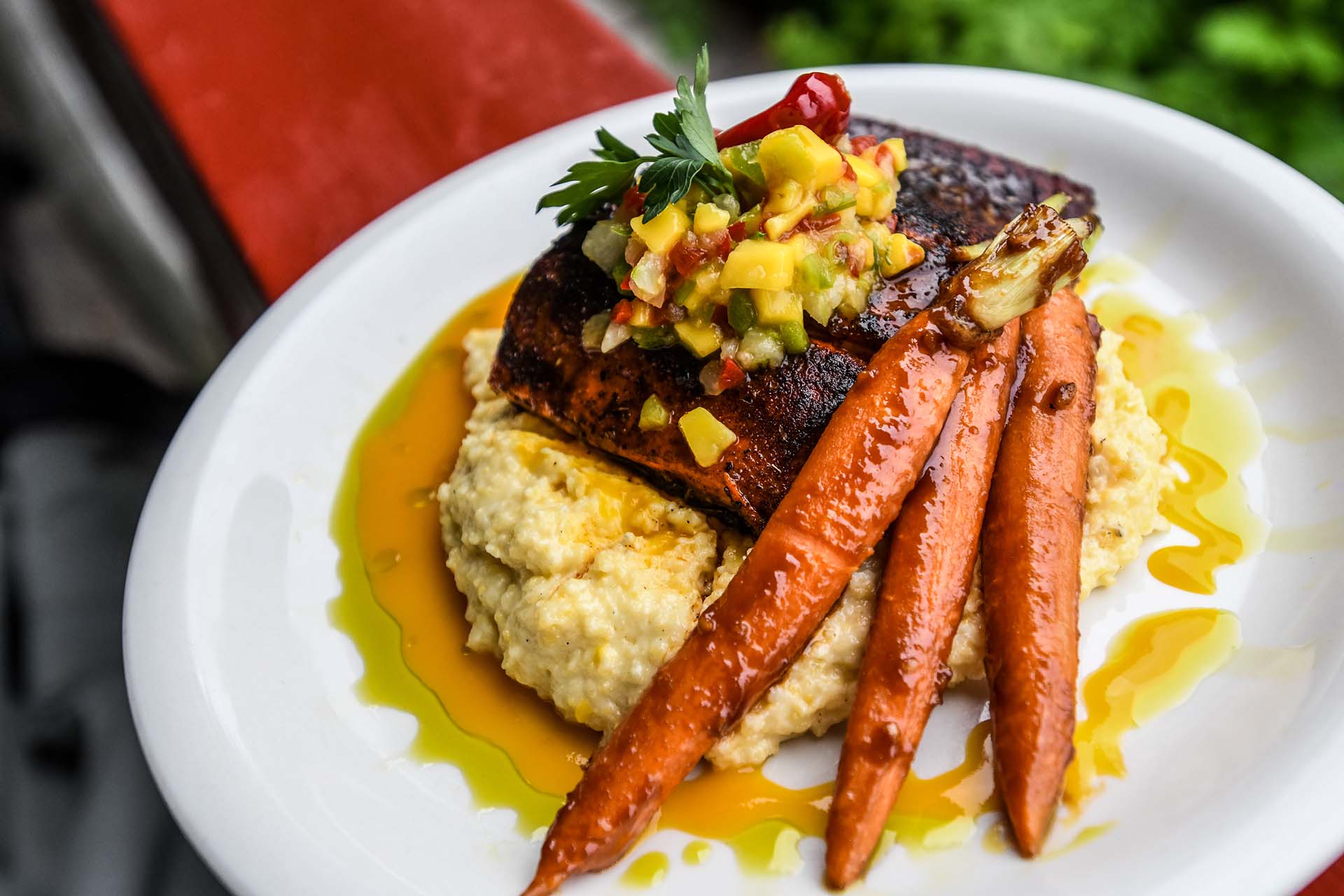 ---
‹ Back