The Corkline
Chef Ryley Eckersley Copper River King Salmon Belly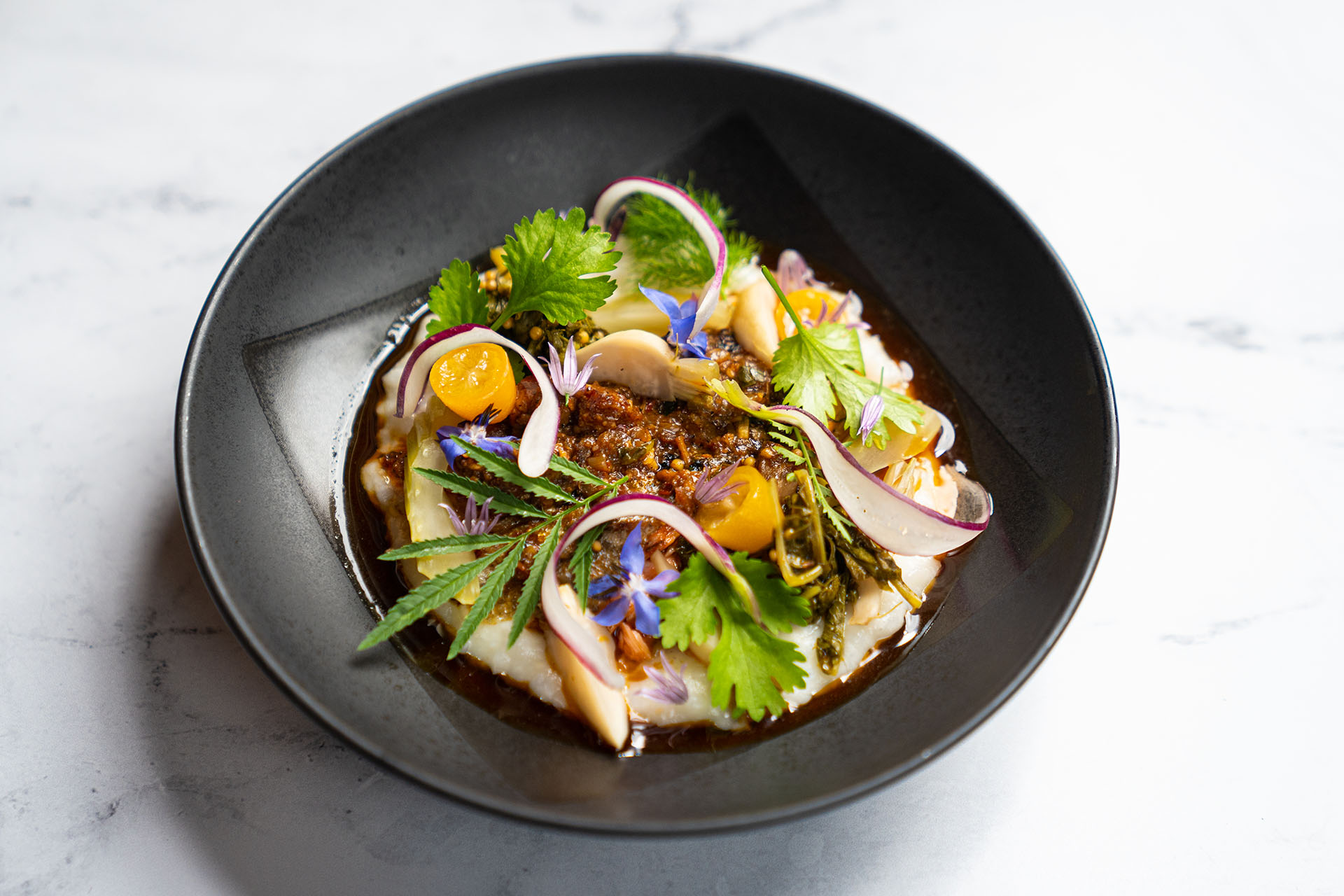 London born Chef Ryley, Chef de Cuisine at Quaintrelle in Portland, Oregon, approaches food as a painter does a watercolor palette. Produce and seafood are the center of the canvas; herbs and seasonal blooms add dimension, and sauces are used like a painter's glaze adorning each finished piece. His dishes are creative expression designed to nourish both body and spirit. Follow along the next few weeks as Chef Ryley Eckersley prepares 5 sensational dishes using Copper River King salmon in our partnership with Chef's Roll. We invite you to draw inspiration from his exciting and bold flavors and preparation methods, interpreting his culinary works of art in your own studio kitchen.
Copper River King Salmon Belly with Congee, XO Sauce, and Pickled Vegetables
Recipe and Chef's Notes
Grill king salmon belly, baste with ramp butter and nước chấm
Ramp Butter
4 oz ramps
8 Tbs unsalted butter
1 Tbs lemon juice
salt to taste
pepper to taste
Wash the ramps thoroughly, allowing time for clean ramps to air dry. Heat 1 Tbsp of butter in a small saucepan over medium and add ramps. Let sauté for about 5 minutes or until completely softened. Remove from heat and let cool completely. Transfer sauteed ramps, remaining butter, lemon juice, and a dash of salt and pepper to a food processor and process until a green butter has formed. Transfer to an airtight container and store in the fridge for up to 1 week.
Nước Chấm – a Vietnamese fish sauce
1 cup hot water
1/2 c white sugar
1/2 c freshly squeezed lime juice
1/3 c Vietnamese fish sauce
2 medium cloves garlic, minced
1 small bird's eye chili, minced optional
In a small bowl, whisk together water and sugar until sugar is disolved. Add in lime juice, fish sauce, garlic, and chili (if using) and stir to combine. Use immediately or store in an airtight container in the refrigerator.
Pickled Veggies
Raw veggies of choice (carrots, radishes, beets, green beans, okra, etc.)
1 Tbs coriander seeds
2 tsp fennel seeds
1 tsp mustard seeds
6-10 cloves of garlic, sliced thick
½ red onion sliced (optional)
Fresh dill or herbs of choice
Optional: whole cloves, dill, all spice, star anise
Pickling liquid (prepare day before complete dish to allow for pickling time)
2 c vinegar (white, red, rice, wine, apple cider)
2 c water
1 Tbs kosher salt
4-6 Tbs sugar
Prep your veggies: wash, slice and cut. Bring water, vinegar, sugar and salt to a boil. Divide the garlic and whole spices in mason jar(s). Add the veggies to the jar(s) and pour the pickling liquid until all veggies are submerged. Let cool at room temperature. Once cool, refrigerate overnight. It will take up to 10 hours to get a desired taste, and even better after a couple of days. Use within 10 days.
Congee – a type of rice porridge
1 cup raw long-grain white rice, rinsed
7 cups chicken or vegetable stock
1/2 tsp kosher or sea salt, plus more for seasoning
one-inch knob of ginger, peeled and sliced thin
Sliced green onion, for garnish
Sesame seed oil or soy sauce (optional)
In a large pot add stock, rice, salt and ginger. Bring the mixture to a boil, then reduce the heat to a low simmer. Stir occasionally so that the rice doesn't clump or stick at the bottom. Simmer the congee for about 1 hour or until the congee is thickened and creamy. Add salt to taste. Serve the congee hot.
Plating suggestion: In a shallow bowl spoon desired amount of congee, place portion of grilled king salmon belly on top of congee, spoon on desired amount of xo sauce (purchase from your favorite Asian market or sub in chili crisp or other similar chili oil or fish based sauce), arrange desired amount of pickled vegetables on top and around salmon belly, garnish with edible flowers such as chive blossom if desired.
---
‹ Back