The Corkline
Chef Ryley Eckersley Copper River King Salmon Chop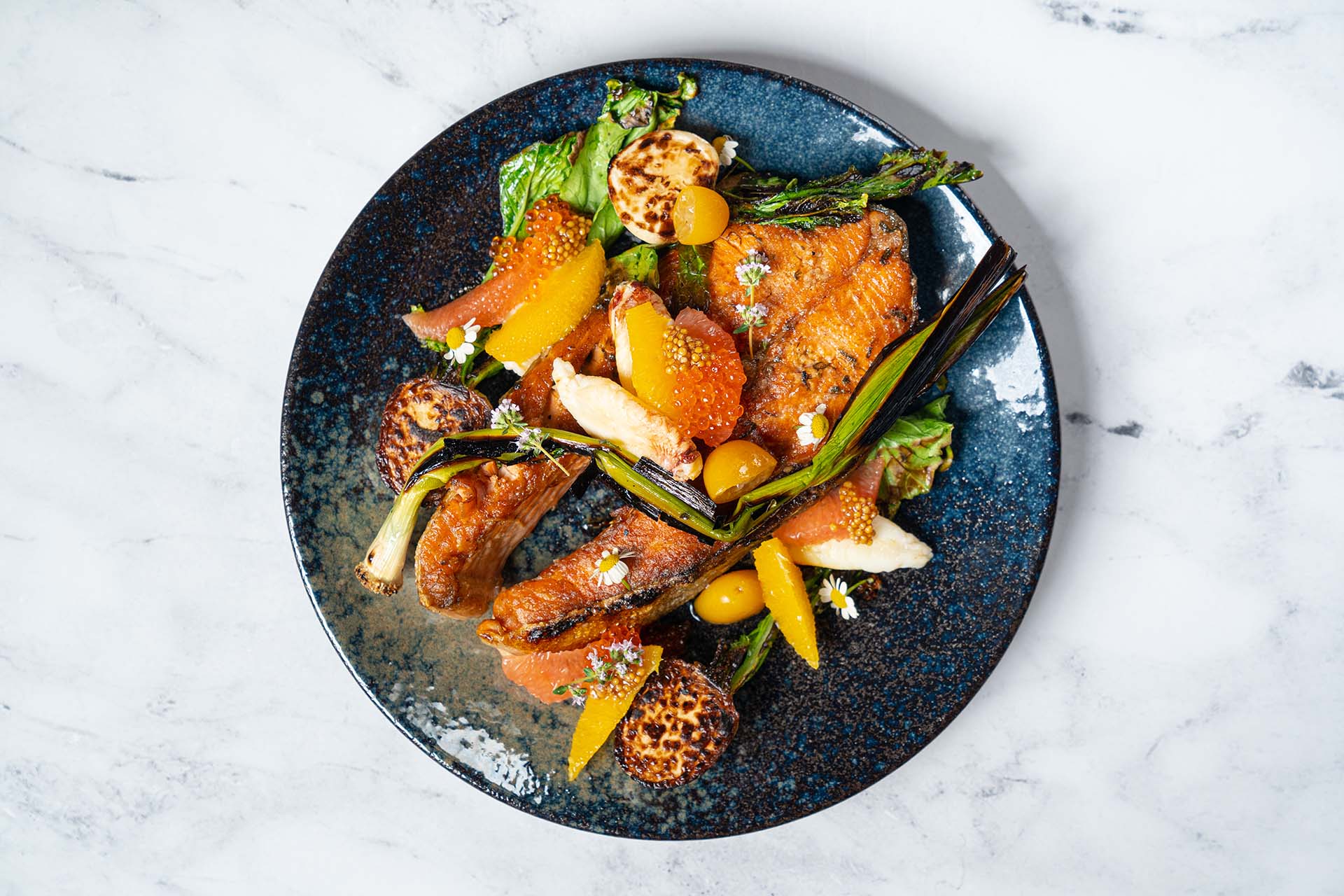 In this third installment of our Copper River King + Chef's Roll + Chef Ryley Eckersley series, we hope to encourage you to new heights in your culinary adventures. We embolden you to approach your kitchen as one might an art studio, with fearlessness and creativity. Watch the video clip, read through the chef's notes, and make your version of this exciting salmon dish.
We can envision many substitutions. Use any Copper River salmon that may be in season: king, sockeye, or coho. Since ramps are often hard to come by, leeks, chives or even shallots could offer a fine substitute. Turnips are abundant, but Hakurei may not be at your local market. Feel free to experiment with rutabagas, white carrots, parsnips, or even white radish. Chef Ryley calls for Dungeness crab in his dish. We'd agree that they are delicious, but if you cannot get Dungeness, try any nice, fresh Alaskan crab that you can get at the seafood case or fish market.
Copper River King Salmon Chop (Steak) with Hakurei Turnips, Ramp Butter & Dungeness Crab
Recipe and Chef's Notes
Grill Copper River King salmon chop (steak), baste with ramp butter and Nước chấm
Ramp Butter
4 oz ramps
8 Tbs unsalted butter
1 Tbs lemon juice
salt to taste
pepper to taste
Wash the ramps thoroughly, allowing time for clean ramps to air dry. Heat 1 Tbs of butter in a small saucepan over medium heat and add ramps. Let sauté for about 5 minutes or until completely softened. Remove from heat and let cool completely. Transfer sautéed ramps, remaining butter, lemon juice, and a dash of salt and pepper to a food processor and process until a green butter has formed. Transfer to an airtight container and store in the fridge for up to 1 week.
Nước Chấm – a Vietnamese fish sauce
1 cup hot water
1/2 cup white sugar
1/2 cup freshly squeezed lime juice
1/3 cup Vietnamese fish sauce
2 medium cloves garlic, minced
1 small bird's eye chili, minced optional
In a small bowl, whisk together water and sugar until sugar is dissolved. Add in lime juice, fish sauce, garlic, and chili (if using) and stir to combine. Use immediately or store in an airtight container in the refrigerator.
Pickled Mustard Seeds
1/2 cup white wine vinegar
1/2 cup water
3 Tbs sugar
1/2 tsp kosher salt
1/3 cup yellow mustard seeds
1 small to medium sized shallot, thinly sliced into rings
In a medium saucepan over medium heat, combine white wine vinegar, water, sugar, and salt. Bring to a simmer and then stir in mustard seeds. Turn heat down to medium-low and cook until seeds are tender and look a bit plumped, about 30 minutes. Stir in shallots and remove the saucepan from the heat.
Let the mustard seeds cool to room temperature, then transfer to a jar with a lid and refrigerate. When stored in an airtight jar and kept refrigerated, pickled mustard seeds will keep well for up to two months.
Glazed Hakurei Turnips
3 bunches baby hakurei turnips, baby turnips, or red radishes (about 2 pounds), trimmed, greens attached if possible
1/4 cup (1/2 stick) unsalted butter
3 Tbs white sugar
Kosher salt
Place turnips in a large skillet; add water to cover turnips halfway. Add butter, sugar, and a large pinch of salt; bring to a boil. Cook, stirring occasionally, until liquid is syrupy, and turnips are tender, about 15 minutes. (If turnips are tender before liquid has reduced, use a slotted spoon to transfer turnips to a plate and reduce liquid until syrupy. Return turnips to pan and stir to coat well.) DO AHEAD: Can be made 4 hours ahead. Let stand at room temperature. Rewarm before continuing.
If including detached turnip or other greens, add greens to skillet and cook over medium heat, stirring occasionally, until just wilted, 2-3 minutes. Season with salt.
Plating suggestion: On your favorite plate or shallow bowl plate, start with your grilled chop or steak in the center of the plate, frame the steak with your cooked turnips and greens, garnish with several pieces of Dungeness crab leg meat, several citrus supreme segments, a generous spoonful of salmon or trout roe, and the pickled mustard seeds. As you can see in the video, Chef has grilled the turnips and the greens, has also added grilled spring onions, and we even spied some preserved kumquats in the final plating. All are complimentary flavors that we added in the spur of the moment in a well-appointed kitchen.
---
‹ Back