The Corkline
Chef Ryley Eckersley Copper River King Salmon Loin - A Study in Green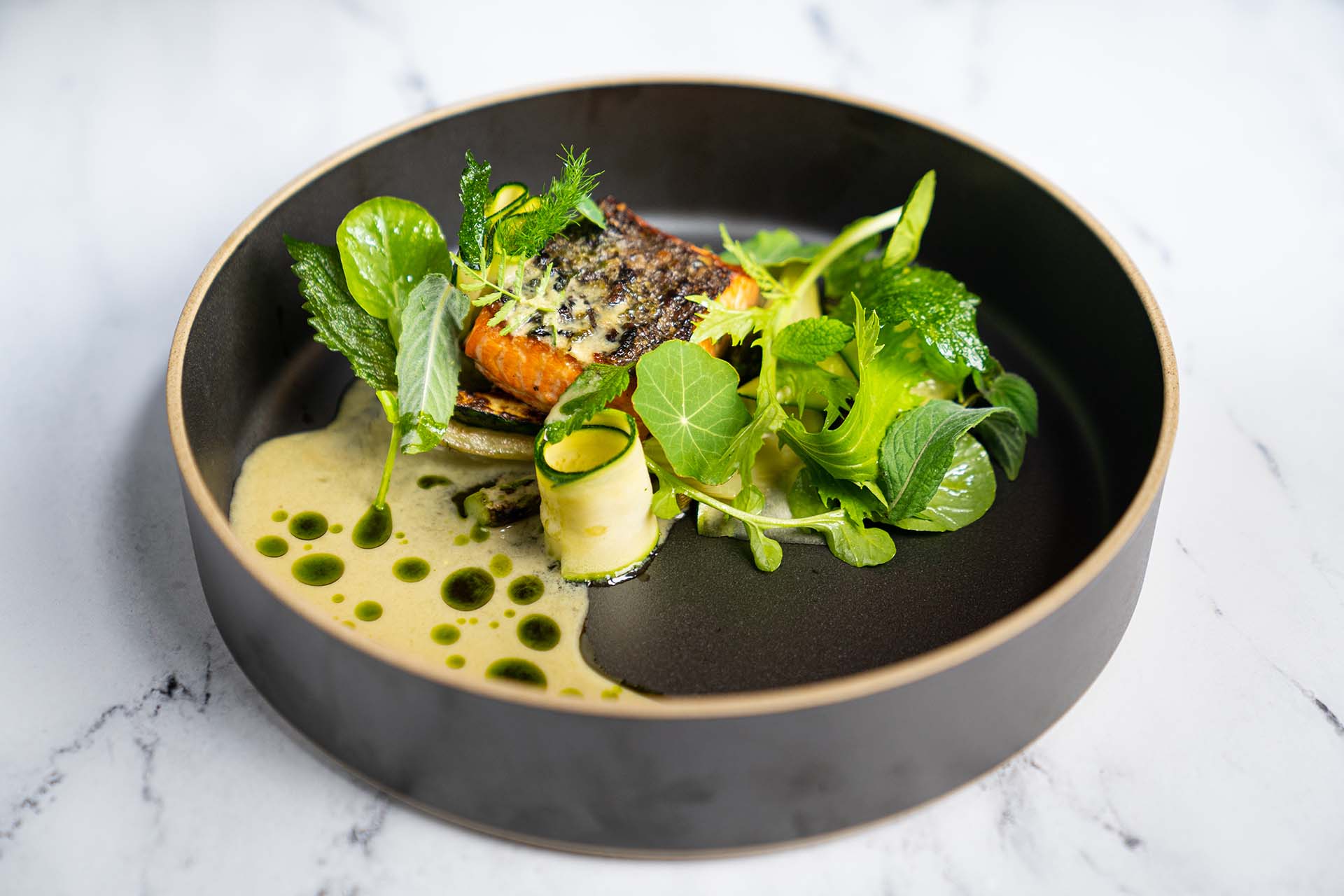 Welcome to the second installment in our Chef's Roll series with Chef Ryley Eckersley and his inspirational preparation of a whole Copper River King salmon. We invite you to draw inspiration from his exciting and bold flavors and preparation methods, interpreting his culinary works of art in your own studio kitchen.
Copper River King Salmon Loin and a Study in Green
Recipe and Chef's Notes
Salmon Loin
Bok Choy
Asparagus
Small Zucchini, Summer Squash or any other seasonal young tender vegetables
Cress, Mizuna, Nasturtium Leaves, Arugula – tender greens in season
Green curry
Green oil
Grill king salmon loin with skin on and skin side down so that it gets crispy, baste with ramp butter and nước chấm. Grill the asparagus and bok choy (and any other vegetables desired), break asparagus stems to remove woody ends and cut bok choy into halves or quarters for more even grilling, brush with avocado oil or other high temperature cooking oil, season with salt, and grill to desired doneness.
Ramp Butter
4 oz ramps
8 Tbs unsalted butter
1 Tbs lemon juice
salt to taste
pepper to taste
Wash the ramps thoroughly, allowing time for clean ramps to air dry. Heat 1 Tbs of butter in a small saucepan over medium heat and add ramps. Let sauté for about 5 minutes or until completely softened. Remove from heat and let cool completely. Transfer sauteed ramps, remaining butter, lemon juice, and a dash of salt and pepper to a food processor and process until a green butter has formed. Transfer to an airtight container and store in the fridge for up to 1 week.
Nước Chấm – a Vietnamese fish sauce
1 cup hot water
1/2 cup white sugar
1/2 cup freshly squeezed lime juice
1/3 cup Vietnamese fish sauce
2 medium cloves garlic, minced
1 small bird's eye chili, minced optional
In a small bowl, whisk together water and sugar until sugar is dissolved. Add in lime juice, fish sauce, garlic, and chili (if using) and stir to combine. Use immediately or store in an airtight container in the refrigerator.
Green Curry
1 stalk lemongrass minced
1 to 3 small green Bird Thai chilies, sliced
1 shallot, sliced; or 4 tablespoons minced purple onion
4 to 5 cloves garlic
1 2-inch piece galangal, thinly sliced, or ginger
1/2 cup cilantro, coarsely chopped: leaves and stems
1/2 cup fresh basil, coarsely chopped
1/2 tsp ground cumin
1/2 tsp white pepper
1/2 tsp ground coriander
3 Tbs fish sauce
1 tsp shrimp paste
1 to 2 tsp brown sugar, or to taste
3/4 can coconut milk
Process all ingredients in a food processor, high speed blender, or large chopper. Process well to form the sauce. Taste-test the sauce for salt and spice. In a small saucepan, bring to a simmer to serve.
Green Oil
1 cup canola oil
1 bunch of parsley
1 bunch of green onions
Combine all ingredients in a high-speed blender or food processor. Blend until smooth, 3-4 minutes. Transfer mixture to a small sauce pan and bring to 212° F, stirring throughout this process. Cool the oil down by placing the bowl into a larger bowl filled with ice. Transfer the finished green oil to a food storage container and keep refrigerated. Use within 2 weeks.
Plating suggestion: On your favorite plate or shallow bowl plate start with a nice portion of grilled bok choy and a few stalks of grilled asparagus. Top the grilled vegetables with a portion of king salmon loin. Garnish with tender greens such as Cress, Mizuna, Nasturtium leaves or Arugula. Add a spoonful or two of the warmed green curry sauce to the plate. Sprinkle dish with green oil.
---
‹ Back