The Corkline
Skillet Salmon with Spring Veggies
Skillet Salmon with Spring Veggies
Recipe by Lindsey Johnson, Cafe Johnsonia
Spring has sprung and it's almost time for Copper River salmon to return! We're celebrating with this spring-themed recipe, featuring a variety of delicious veggies from the season. Give this recipe a try and get ready for fresh salmon, straight from the hands of the world's finest fishermen!
Ingredients
1-1 ½ lbs wild caught salmon fillet, skin on
2 large russet potatoes, scrubbed clean and cut into about 1/4" slices, boiled just until tender
1 lb mixed spring vegetables (pea pods, baby carrots, green onions, green beans, radishes)

small bunch leafy greens, such as flowering brassica, raab, baby kale, or chard

1 bunch red or black radishes, trimmed and cut in half

Mizuna or other greens for serving platter

mustard vinaigrette (optional)
Instructions (read directions thoroughly before cooking)
Pat salmon dry and sprinkle with salt and pepper on both sides
Heat olive oil in skillet over medium-high heat
Add salmon, skin side down. Cook for about 3-4 minutes

Gently turn fillets over and cook for an additional 2-3 minutes until flesh is opaque and flakes easily with a fork

Place the salmon on top of the mizuna greens on a serving platter, cover to keep warm

Add more olive oil and sliced potatoes to hot pan, sprinkle with salt and pepper and cook until golden

Transfer to platter and keep warm

Heat olive oil in another skillet with spring vegetable, salt & pepper, and sauté until tender crisp

Add leafy greens to skillet, salt & pepper to taste and cook until bright green and barely tender
Transfer to a serving platter and drizzle with a little mustard vinaigrette



Click the button below to download our recipe card with these instructions.
Skillet Salmon with Spring Veggies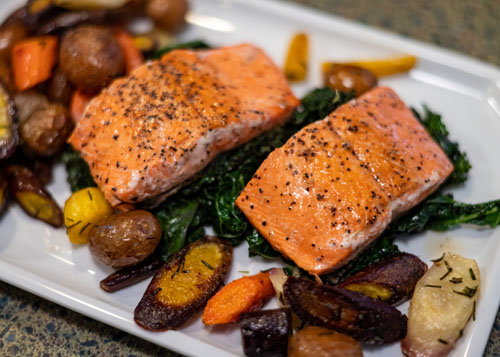 ---
‹ Back