The Corkline
Curry
Is there a difference between curry powder and paste?
Curry powders and pastes can share some universal spices but, the flavor components of each are distinct from the other. In fact, typically these two mixtures are used to prepare different kinds of cuisine altogether. While curry powder is a staple of Indian cooking, curry paste (which is also sometimes used in Indian cooking, but more rarely) is most often associated with the deeply spicy and fragrant flavors of Thai cuisine.
Curry paste has an extremely potent flavor achieved by the hand crushing or machine processing of a variety of strong spices and herbs like red chilies, garlic, ginger, lemongrass, and Kaffir lime. Curry paste can be a variation of red, brown, green or yellow. Red and brown curry paste typically have more heat while yellow and green are more mild.
Curry powder is a dried spice mixture made with a base of turmeric, red pepper, cumin, and coriander, often also incorporating paprika, fennel seed, mustard, and more.
To decrease the heat in any dish, add additional coconut milk, sweetness or acidity.
What style of curry is right for you?
Red Curry: (kreung gaeng phet daeng) incorporates coconut milk in the sauce along with the curry paste, which includes garlic, spices, galangal, and shrimp paste along with the red chilies. Classically spicy, add more coconut milk to suit your palate.
Yellow Curry: (nam prik gaeng karee) has a mild, somewhat sweet taste with a little bit of spice. In addition to the turmeric, curry powder is pounded combined with coriander seeds, cumin, lemongrass, galangal or ginger, garlic, and yellow or red chili.
Green Curry: (kreung gaeng keo wahn) fresh coriander (cilantro), makrut lime leaf and peel, and basil are combined with fresh green chilies and several other ingredients such as lemongrass, fish sauce, garlic, ginger, and shallots.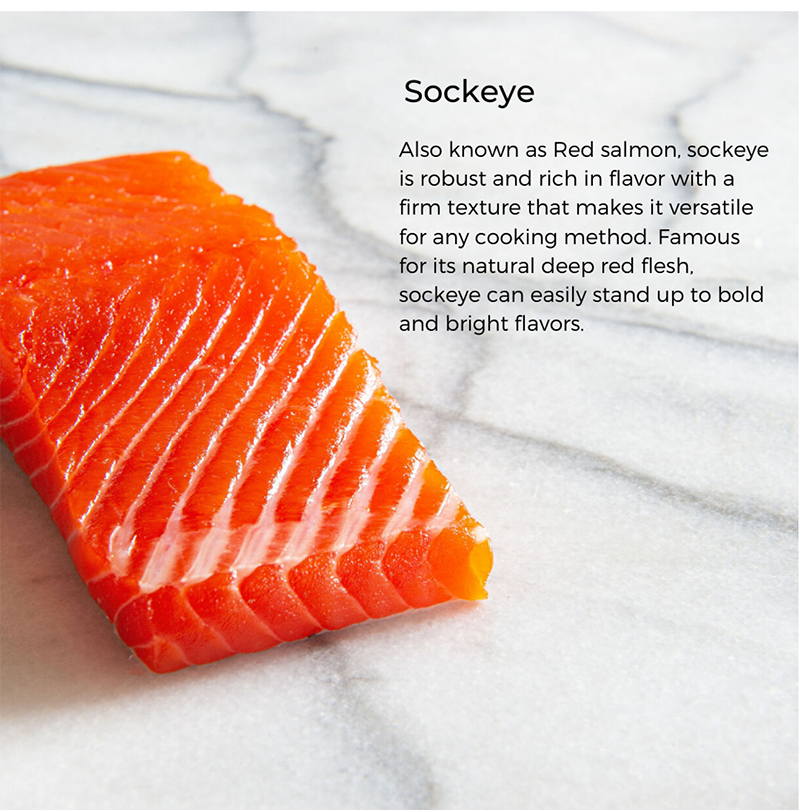 What salmon is right for your curry?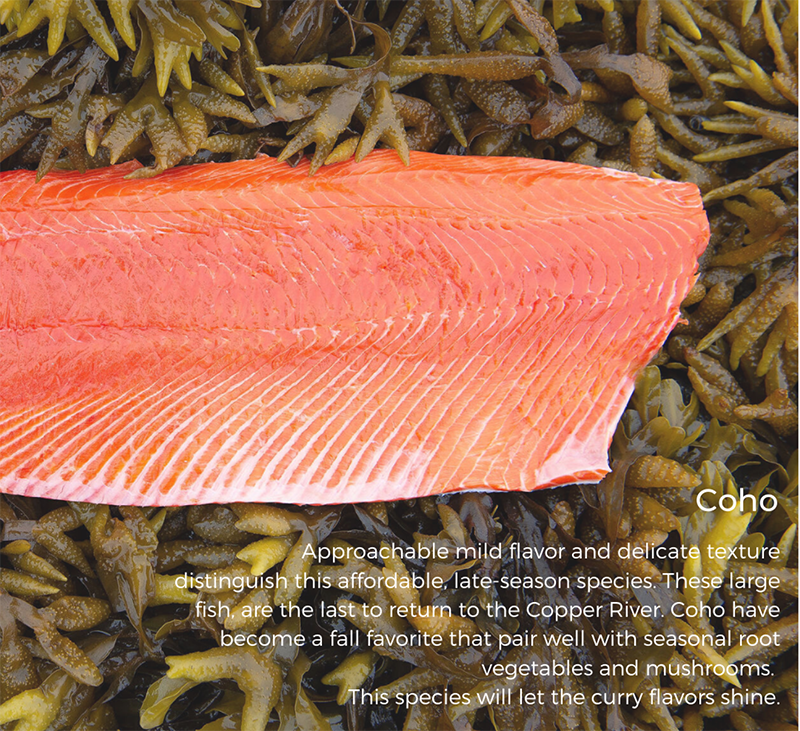 We've compiled a few recipes from our friends and our own recipe library.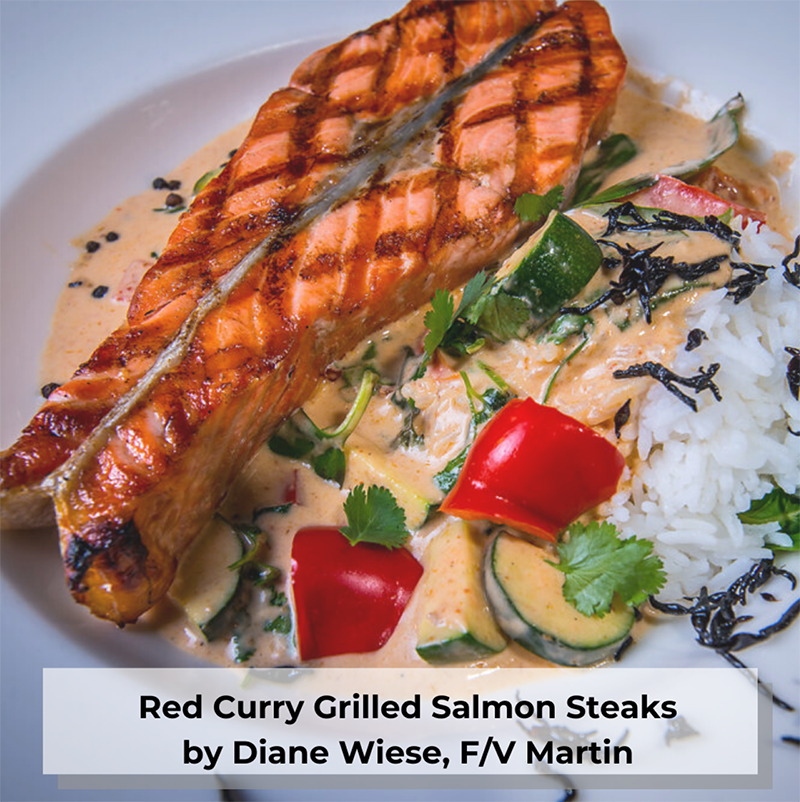 Ingredients
4-6 Copper River Salmon steaks
1-3 tbs red curry paste, to taste
1 tbs fish sauce
2 tbs sugar
3 (13oz) cans of coconut milk
2 cups chicken broth
2 red bell peppers cut into 1" pieces
1 large green or yellow zucchini, chopped
2 cups fresh Thai basil leaves
1 cup fresh chopped cilantro
1 jalapeño pepper, seeded and thinly sliced
3 tbs olive oil
2 cups jasmine rice, prepared as directed
Directions
Grease a well-cleaned grill thoroughly with non-stick cooking spray Grill fish for at least 3-5 minutes on each side or until flesh is opaque and separates easily with a fork
Remove salmon from the grill and set aside In a non-stick frying pan over medium-high heat, combine red curry paste, fish sauce and sugar, stir thoroughly
Add 1 can of coconut milk, bring to a simmer and reduce to mediumlow heat, stir often. Sauce will thicken after about 15 minutes
Add remaining coconut milk and stock with bell pepper and zucchini, simmer 5 minutes or until slightly tender
Remove from heat and add the fresh herbs
To serve, ladle sauce over plated rice, top with salmon and garnish with jalapeño and basil as desired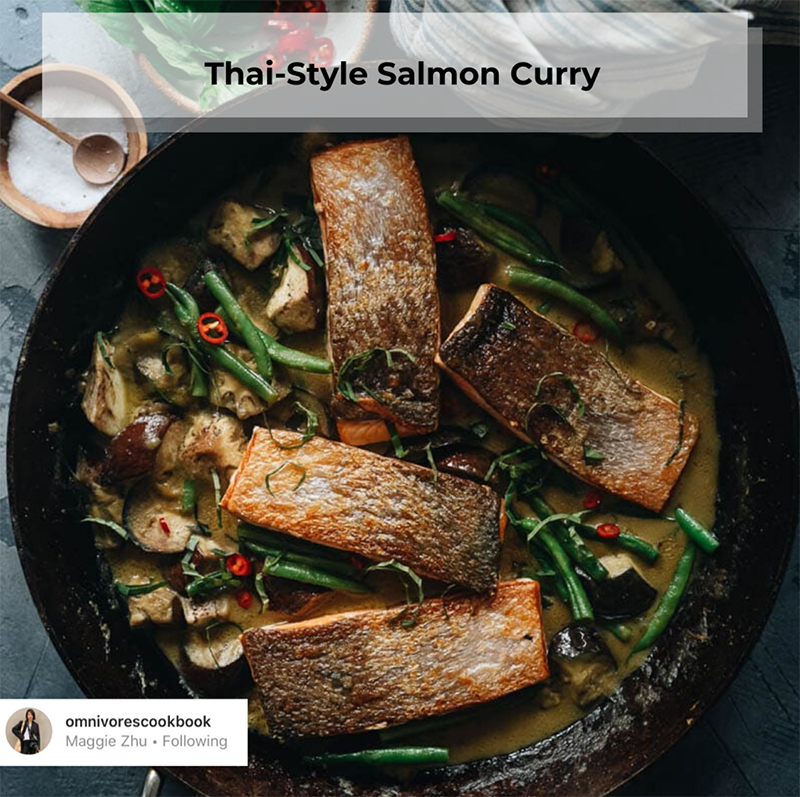 Ingredients
1 lb (450 g) salmon, skin on & cut into 4 fillets
Pinch of salt
1 teaspoon vegetable oil
2 teaspoons vegetable oil
3 tablespoons green curry
paste (*Footnote 1)
1 can (13.5 oz/ 382 g) coconut milk
1/2 cup chicken stock
1 tablespoon fish sauce
2 teaspoons sugar
1 cup green beans, trimmed and cut in half
1 small Japanese eggplant, halved & cut into half-inch chunks
6 basil leaves, sliced
Directions
In a large skillet or a wide saucepan add the 2 teaspoons of oil and heat over medium heat until warm. Add the curry paste. Cook and stir to release the fragrance, about 1 minute.
Add the coconut milk, chicken stock, fish sauce, and sugar. Stir to combine everything. Taste the mixture and adjust the fish sauce and sugar to your preference. (*Footnote 1)
Bring the broth to a boil, then lower the heat to medium-low to reduce it to a simmer. Cook until the curry is mostly thickened, 10 minutes.
While the broth simmers, sprinkle a pinch of salt evenly onto both sides of the salmon. Add the remaining 1 teaspoon of oil to a separate pan over high heat until it is just smoking. Place the salmon, skin-side-down into the hot pan. Cook until the skin is brown and crisp, about a minute.
Once done, transfer the salmon to a big plate and set it aside.Once the broth is reduced, add the green beans and eggplant. Stir to mix well. Continue to simmer for another 4 minutes.
Arrange the vegetables to create 4 wells, about the size of the fillets. Place the cooked salmon skin-side-up in the wells. Simmer for another 2-3 minutes, until the salmon is just cooked through.
Remove the pan from the heat and add the basil leaves. Serve hot over steamed rice as a main dish.
*Chef Notes- Every brand of curry
paste is different, so you may need to adjust the seasoning depending on the ingredients of the curry paste you are using.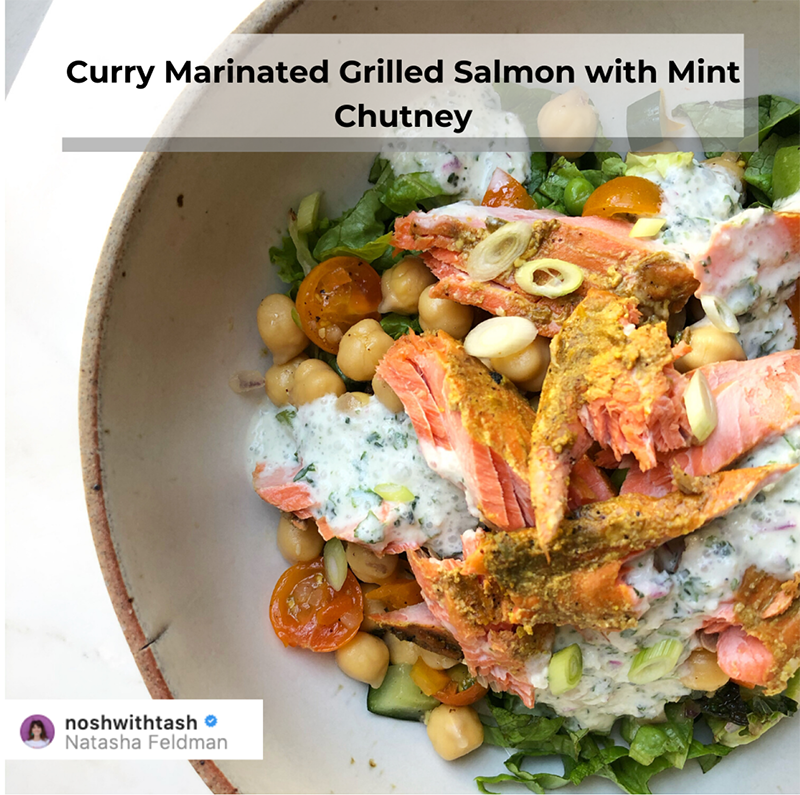 Ingredients
1 lb copper river salmon
1 tablespoon unrefined coconut oil
15 curry leaves
2 tablespoons ginger, peeled & cut into matchsticks
5 garlic cloves, cut into matchsticks
1 tablespoon Thai green chilis, minced
1 large tomato, diced
1 teaspoon curry powder
1 teaspoon turmeric
1 teaspoon salt
1 tablespoon tamarind concentrate
1/4 cup coconut milk
Mint Chutney
1/2 cup mint leaves
1/2 cup cilantro leaves
4 cloves of garlic
1 Thai chili
1/4 red onion
1 cup full-fat greek, or Indian, yogurt
1/2 teaspoon salt
Directions
Blend all of the mint chutney ingredients in a blender or food processor until smooth. Chill.
In a large saucepan over medium heat melt the coconut oil. Add in the curry leaves, ginger and garlic. Cook for 4-5 minutes until aromatic. Add the green chilis, tomato, curry powder, turmeric, and salt. Stir until all the spices are evenly incorporated and fragrant. Add the tamarind and coconut milk and reduce heat to a simmer. Cook for 25 minutes until the sauce is slightly reduced. Cool fully in the fridge
In a large mixing bowl, or a Ziploc bag, pour 1/4 of the cooled mixture over the salmon and marinate in the fridge for 1 hour.
Preheat your grill on high for 15 minutes, place the fish on the grill skin side down and cook for 12-15 minutes with the lid open until the fish reaches an internal temp of 145 degrees. If your fish is thick and taking a bit longer, feel free to put the lid down for a few minutes of the cooking.
Enjoy with the mint chutney, rice and a big ol' salad!
---
‹ Back