The Corkline
Miso Udon with Salmon Meatballs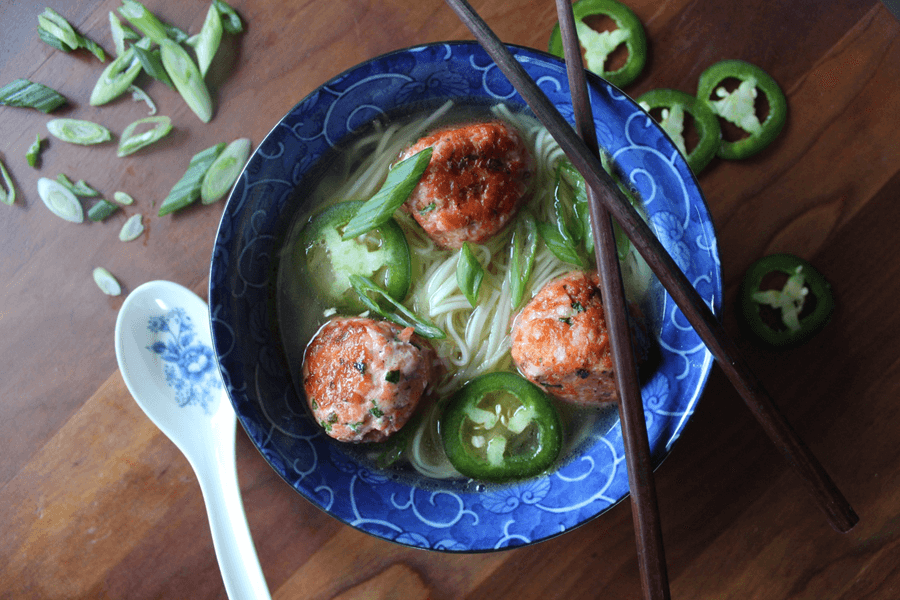 Miso Udon with Copper River Salmon Meatballs
Recipe by Casey Landaluce, F/V Clean Sweep
The food you eat affects you body, mind and soul.
Here in snowy AK, fewer daylight hours and freezing temperatures can send you running for a bowl of something hot to raise your body temperature and comfort you during these long winter months. In the heart of wild salmon country, we have found the perfect solution to fill you up but not weigh you down.
This dish by Casey Landaluce is the perfect balance of healthy fat, calcium-rich flavor and comfort food!
NOTE: If you don't happen to have a salmon backbone and head in your freezer, your local fishmonger may be able to help out. This recipe is flexible though, sub in store bought fish or vegetable broth in the miso fish broth recipe below if you'd like.


Copper River Salmon Meatballs
Ingredients
1 lb skinless Copper River Salmon (king, sockeye or coho), ground or finely chopped
½ cup minced shallots
2 cloves minced garlic
1 tsp fresh grated ginger
½ jalapeño minced
1 egg
1/3 cup panko crumbs
2 tbs coconut oil
½ teaspoon sesame oil
2 tbs chopped cilantro
Instructions (read directions thoroughly before cooking)
Lightly sauté shallots, garlic, ginger and minced jalapeño in 1 tbs coconut oil, 4 minutes over medium heat. Seat aside and cool.
Combine all ingredients into a mixing bowl and mix until even (hand mixing is best) salt & pepper to taste. Roll about 2 tbs of the mixture into balls. Refrigerate for 2 hours.
Coat skillet with 1tbs coconut oil and bring meat to medium high heat. Pan fry salmon meatballs, turning until golden brown then set aside.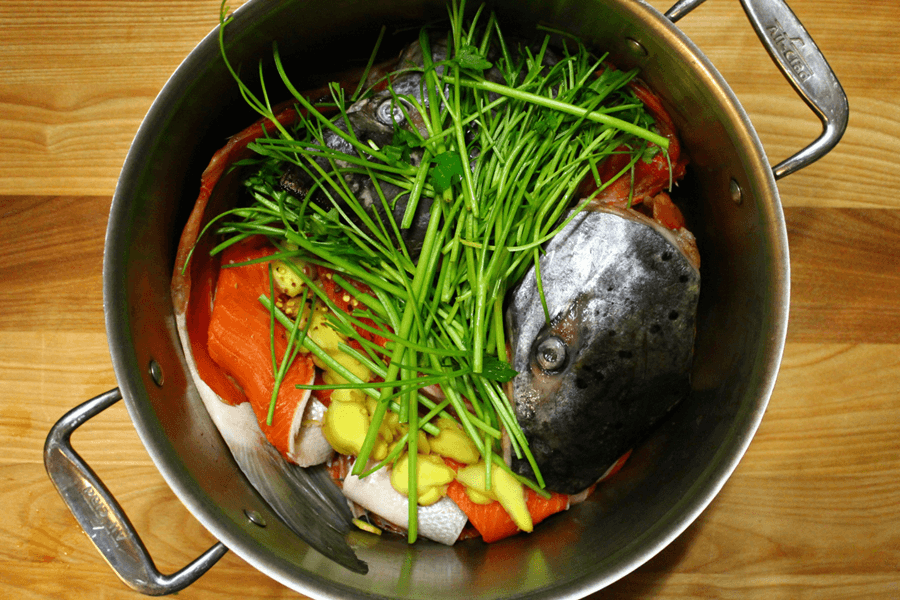 Miso Fish Broth
Ingredients
salmon backbone and head
sliced ginger
pinch red pepper flakes
parsley and cilantro stems
splash of soy sauce (~2 tsp)
6oz package of udon noodles
4" piece of kombu seaweed (optional)
Miso paste
Instructions (read directions thoroughly before cooking)
Bring all ingredients except noodles and miso paste to a gentle simmer for 20 minutes. Strain liquid broth.
NOTE: Once the stock is fully simmered to your desired taste, it can be stored in the fridge for up to 2 weeks and in the freezer for up to 8 months. This is a great base for seafood chowder.
In separate pot cook noodles to package directions.
Final Dish Assembly
Combine 1 tsp miso paste, ¼ udon noodles and 1 cup broth into a serving bowl. Stir to dissolve miso paste and add meatballs.
Garnish with green onion and jalapeño.
---
‹ Back