The Corkline
Keeping it Cool on the Copper River Flats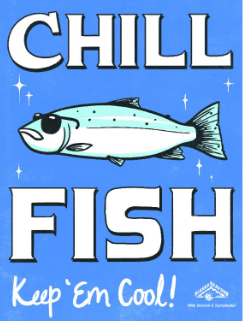 Copper River salmon is famous for kicking off the wild Alaskan salmon season each spring. The Copper River fleet fishes a long season that begins in May and extends all the way through September. Throughout this entire time Copper River salmon can be found fresh in stores nationwide. As any seafood lover knows, there's nothing quite like tasting wild seafood that was caught only hours before hitting your plate.
So, how does our wild salmon get to your plate in such excellent condition?
Thanks to our friends at Alaska Airlines and other air freight providers, Copper River salmon can be delivered fresh to the West Coast and beyond within 48 hours of being harvested from the mineral rich waters of the Copper River Flats off the Gulf of Alaska – that's one fresh fish! It's not just the timing that keeps our wild salmon looking and tasting beautiful, a lot of meticulous handling is part of the process as well.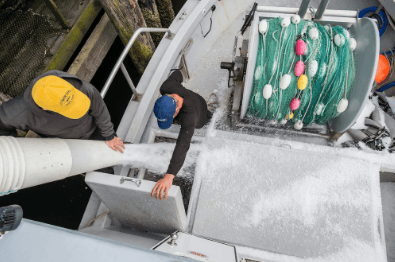 Getting ice on the F/V Miss Camilu with Rich Wheeler
From the moment a fisherman picks up their nets over the bow, quality handling of the fish has begun. Once picked from the net, each fish is quickly bled. Bleeding each salmon is an important step in maintaining the pure taste wild Alaskan salmon is known for.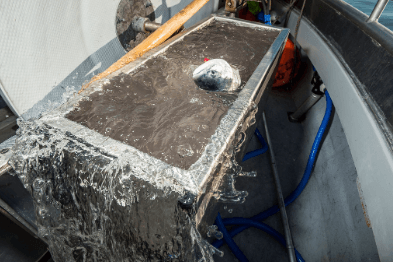 Straight out of the net and into an immersion bleed tank
Next, the fish are placed in chilled fish holds and kept cold. One of the most important steps in keeping wild salmon pristine is temperature control. The fleet is well equipped for chilling and icing salmon, which locks in freshness for the journey to come. Most of our fishermen chill their fish by using slush ice, a mixture of seawater and flake ice in their fish holds. Others use refrigeration systems to chill seawater to a constant 35 degrees. Both methods keep the salmon floating in bags in fish holds to prevent bruising.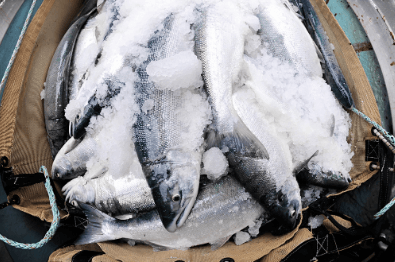 Copper River sockeye salmon on ice in a brailer bag ready to offload
From there, deliveries are made to larger boats called tenders which bring bled and iced salmon to processors back on land. At these facilities the fish are handled quickly and carefully by experts and promptly shipped to awaiting chefs and fishmongers around the country.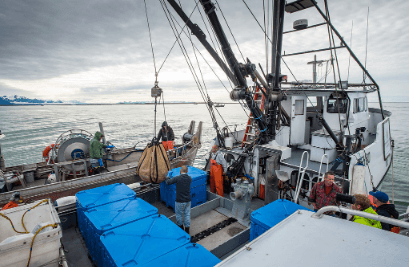 A tender delivery on the Copper River Flats.
The blue totes contain more flake ice for fishermen to use all period long to keep salmon properly chilled.
"The idea that I'm catching food for people and that within 48 hours this will be on the plate in a restaurant is really satisfying."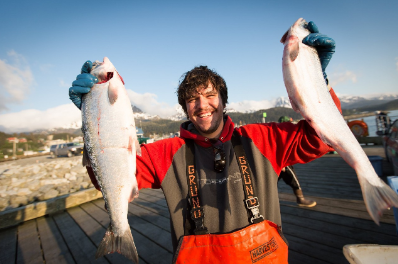 Copper River Fisherman Ezekiel Brown
The fishermen that bring you Copper River salmon take pride in saying that their fish is the best. They have a long-standing reputation for the highest quality handling standards and traditions. "The idea that I'm catching food for people and that within 48 hours this will be on the plate in a restaurant is really satisfying" says Cordova fisherman Ezekiel Brown.
So that's the secret to providing the world's finest salmon: bleeding, chilling and soft handling every step of the way.
From the Copper River Flats all the way to your plate, Copper River salmon is as fresh and delicious as it gets.
---
‹ Back