The Corkline
Salmon Gillnets: Hanging and Mending Tools of the Trade
Salmon Fishing 101.2 Follow along to learn more about commercial fishing for Copper River and Prince William Sound wild salmon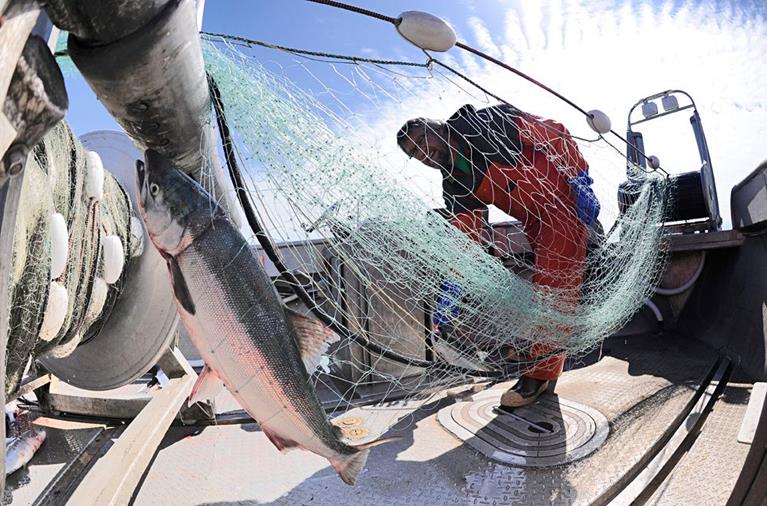 Fishermen have been using nets to harvest food from the ocean for thousands of years. Commercial fishermen have used gillnets in Alaska for more than 130 years. Their nets today differ in construction material rather than construction design.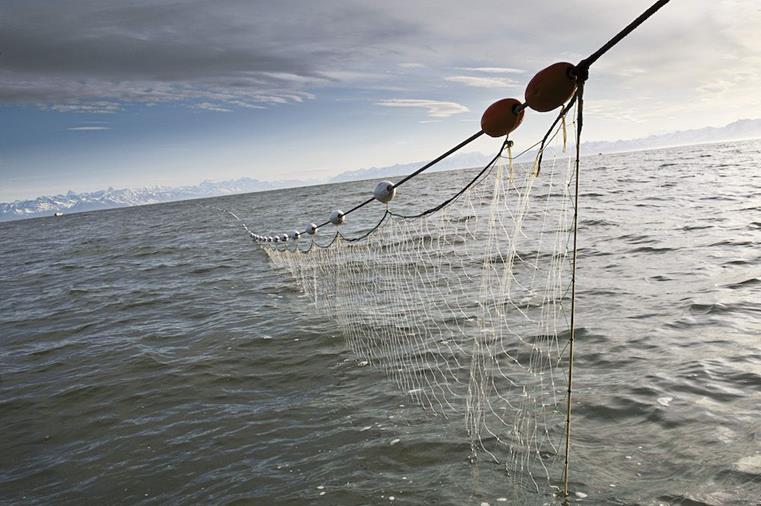 A salmon drift gill net consists of colored web or netting that hangs vertically in the water. Large floats or corks hold the top edge of the net toward the surface of the water. A weighted line weighs the bottom edge of the net so that it hangs vertically, nearly invisible in the water.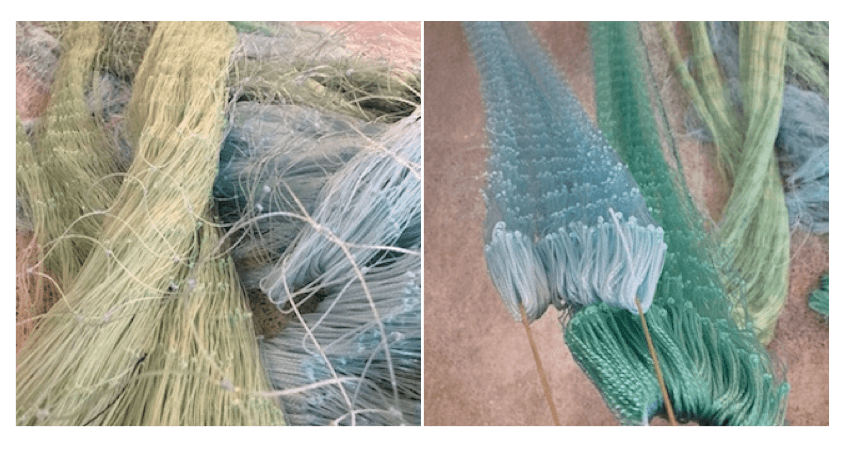 The web can be purchased in multi-hued range of marine colors from nearly clear to deep ocean blue. Each fisherman has their preferred palette of colors for their nets. Some are even quite superstitious about their fishing gear and believing their color scheme to be the fishiest of them all.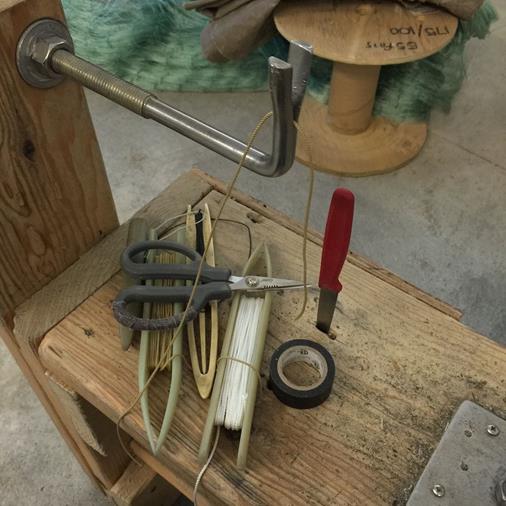 In the quiet of winter, warehouses with their smooth cement floors are draped with next season's new nets fresh off the hanging bench. Hanging benches, mending needles, snips, a red handled Victornox, twine and electrical tape are the season's tools.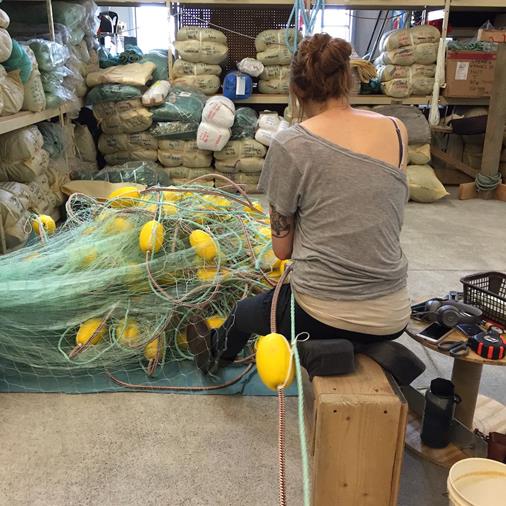 Sitting at her hanging bench, crafting a net, hanging web onto lines, knot by knot.
Aside from a fisherman's boat these nets are the essential tools of the trade. Mending fishing nets or "gear" is an essential skill. Nets are expensive, from the purchase of the web and lines to the time or labor to hang them. Some folks hang their own gear; some have net menders hang their nets for them.
As each Copper River salmon is picked from a fisherman's net, it bears evidences of it's catch; a broken knot or two or a weakened spot in the web. After a long period of fishing, delivering their fish, cleaning their boat, back in their slip in the harbor, fishermen pull their nets off the bow of the boat onto the dock for repair.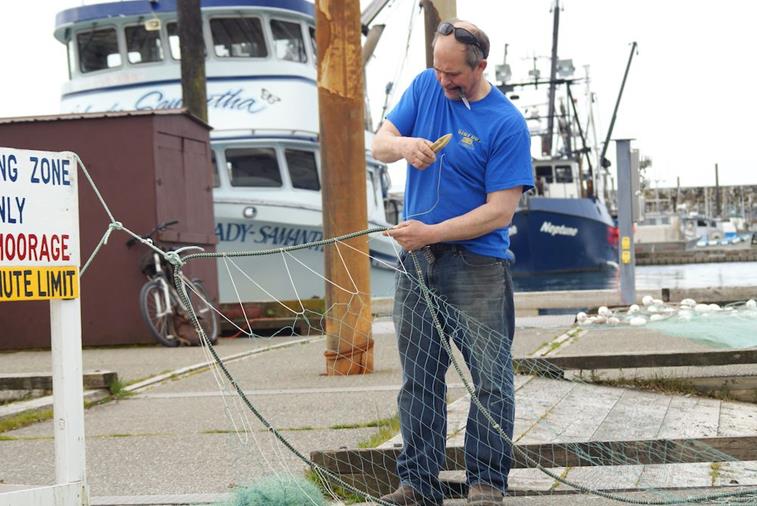 Mending gear on the dock during a closure
Some will do the work themselves; others will call their favorite mender and hope to be the first on the list for that closure period. A good mender is both fast and thorough and worth every dollar they charge for their professional time. A net out of the water isn't harvesting salmon.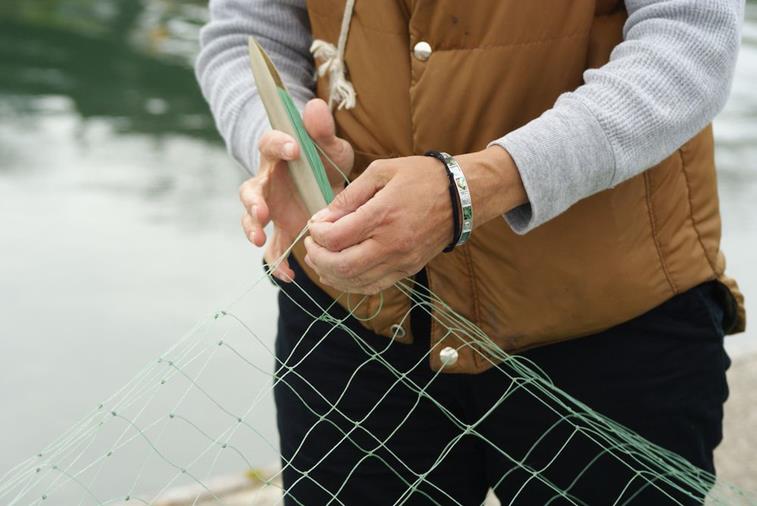 The work of their hands brings you Copper River salmon. Coming this May!
---
‹ Back